For as long as I can remember, I was a monogamous reader. I'd start a book and read it straight through no matter how much time that took. Even if I didn't like it, I had to finish it.
College and graduate school didn't change my book monogamy. Even when my reading load was very heavy, I never read a book on the down low. That seemed shifty and wrong. Once during my MFA program I had to read Bleak House, The Wings of the Dove and two novels by Iris Murdoch all in one week, but I didn't cheat. I slogged along serially, losing sleep but determined to be faithful. My roommate later claimed I was prone to hysterical laughter that week, but monogamy can make anyone desperate, right?
Years later, when I was reviewing for a handful of magazines and newspapers and two public radio stations, I still didn't cheat. My motto: One man, one book.
Now I'm a hopeless book slut. I can't seem to keep my hands off all the books piled in my study, by my bed, in the den, and sent to me by publishers. I'll try to stay focused but then a new book shows up in the mail, somewhere on line and I go all Iggy Pop: "You look so good to me…."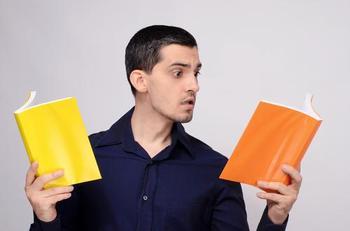 This has nothing to do with competition from downloading music, Facebook or Twitter, texting, or binge-watching the latest Netflix original show like the hilarious Lovesick. It's the books that compete with each other. Some months I'm reading as many as five to six books at a time. That means bookmarks, Post-it notes, a pen or pencil, a napkin, a comb, my phone, a restaurant receipt or whatever else is handy will be poking out from books all around the house.  Keeping my place(s).
That also means some weeks I shun all book reviews, especially the New York Times Book Review. I don't want to hear about another new book in any genre, don't want to risk being tempted.
So what's in my book harem right now? Biographies of President Buchanan and Thomas Beckett.  Rebecca Mead's memoir about reading Middlemarch.  A short novel by Anthony Trollope.  Nathaniel Philbrick's history of Bunker Hill.  Susan Jacoby's The Age of Unreason. Poldark by Winston Graham.  And a book about contemporary populism worldwide, just to stay connected to current events.
And I'm about to order a biography of the art collector Peggy Guggenheim because I just saw a documentary about her and I still remember visiting her famous museum in Venice….I just couldn't resist her life, her loves, her art.
Lev Raphael is the author of Book Lust! and twenty-four other books in many genres.