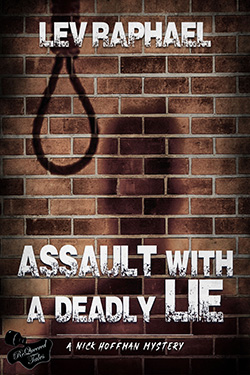 A Midwest Book Award Finalist
Nick Hoffmann Mystery #8
Successful professor Nick Hoffman finds his secure, happy, college-town life changed forever after a nightmarish encounter with police. But even when that horrible night is over, life doesn't return to normal. Someone is clearly out to destroy him. Nick and his partner Stefan Borowski face an escalating series of threats that lead to a brutal and stunning confrontation.
A novel of suspense set in the academic world, Assault with a Deadly Lie probes the disturbing psychological impact of slander, harassment, stalking, police brutality, and the loss of personal safety. What will Nick do when his world threatens to collapse? How can he re-establish order in a suddenly chaotic life?
This eighth installment of Lev Raphael's Nick Hoffman Mysteries propels the series to a new level of danger and intrigue as Nick and Stefan are catapulted out of their tranquil existence by shocking accusations.
"A riveting great read for mystery/suspense fans, author Lev Raphael once again documents his impressive gifts as a storyteller, holding the reader's rapt attention from beginning to end with unexpected plot twists and surprise twists. Highly recommended for personal reading lists and community library collections, for those to whom Assault With A Deadly Lie is their first introduction to the Nick Hoffman series, they will be highly motivated to seek out the earlier volumes as well."
—Midwest Book Review
"Lev Raphael breathes menace into his university setting, and brilliantly tightens the screws on the reader while driving his heroes to the brink with guns, drugs and violence."
—Justin Evans, author of The White Devil
"A splendidly written story of innocence, intrigue, and invisible enemies, Assault with a Deadly Lie waltzes beautifully between poignancy and terror. But better still is the question that will haunt readers long after the book is put down: Could this happen to me?"
—P.J. Parrish, author of Heart of Ice
"From the first page to the last, this novel flies at breakneck speed, but it also mesmerizes as it unspools in perfect detail. Despite the placid surface, all is not quite right in Michiganapolis, and the breathless fun of this mystery isn't just its twists and surprises, but also the utterly recognizable place and time and fully-formed characters with all their believable quirks and secrets. Lev Raphael hasn't so much written a mystery as he has created a world and planted the reader at the center of it: Don't start this one until you're ready to follow it anywhere!"
—Laura Kasischke, author of The Raising
"College towns are sleepy places and government agencies keep us secure—right? Not in Lev Raphael's exciting new novel. The action starts on the first page, and the tension and paranoia build in ways that are far too plausible. Sharply observed, smartly paced, but thoughtful and compassionate from beginning to end."
—Joseph Finder, author of Paranoia and High Crimes
"In Assault with a Deadly Lie, the ivory tower topples under a barrage of guns and violence. Nick Hoffman and his partner find that literature and an idyllic domestic life are no match for a deranged character's revenge conspiracy."
—Lynn C. Miller, author of Death of a Department Chair
"Lev Raphael adds another literate and compulsively readable book to his acclaimed Nick Hoffman novels, and this may be the best one yet."
—Michael Nava, author of the Henry Rios mysteries
Buy Assault with a Deadly Lie for Kindle, Nook or in hardcover
"The Police Now See Citizens as the Enemy": Huffington Post Blog
"My Mother and My Mysteries": Guest Blog on Mysteristas
5 Questions with Author Lev Raphael: Detroit Free Press
Interview on Stonewall Live BlogRadio
"Okemos author's Assault With a Deadly Lie a winner": Lansing State Journal
Liz Crowe Interview: "Across the Beer Bar With Lev Raphael"
Return to main page | Return to Mysteries page
© Lev Raphael.