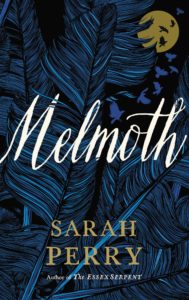 In Sarah Perry's second novel, Melmoth, Helen Franklin is a bland, depressed English translator in her 40s who lives and works in Prague but doesn't think much of its fabled baroque beauty.  In fact, she has contempt for it. She lives a severely monastic life, denies herself pleasure so profoundly that she rents a room from a nosy, obnoxious elderly woman who mocks her and whom she herself finds gross and grotesque.
Despite her knowledge of German and Czech, which might expand her interests and social life, Franklin's life in Prague is stupefyingly dull as she works on boring projects like translating technical manuals.  And then something dazzling changes everything.  It's a manuscript containing a handful of bizarre and even horrific stories, given to her by one of her only Czech friends who seems shattered by having read it. 
Franklin reads the manuscript in pieces and begins to be drawn into its dark labyrinth.  Is she insane?  Is what she experiences really happening or has her undisclosed past finally caught up with her?  And what's led her to live such a claustrophobic, self-denying life in a city that seems to offer joy, pleasure, and even simple amusement at every turn?
The stories are narratives of encounters with "Melmoth the Witness," a woman invariably dressed in mourner's black who wanders the Earth lonely, barefoot, stalking people who have either sunk into despair, done something terrible–or both.  Melmoth's own crime that led to her being cursed was to deny what other women saw when the stone was rolled away from the tomb of Jesus.  Since that time, she's been the ghostly, seductive epitome of suffering and pain, inexorably drawn to misery in many forms, leaving bloody footprints wherever she roams.
All the stories, ranging across countries and centuries, focus on human misery and criminality–but this isn't a crime novel per se.  It's a new take on the Gothic. You don't have to know the classic novels by Ann Radcliffe, "Monk" Lewis or Charles Maturin (who's name checked here) to appreciate the stunning achievement.  
But if you have, you'll be even more gobsmacked by the dazzling and disturbing mix of the two original strands of Gothic.  There's Terror Gothic: Is Franklin being followed?  Is someone about to do her harm?  What is the dark secret that torments her? 
And then there's Horror Gothic in many forms, including a ghastly scene that feels like an homage to Alfred Hitchcock's The Birds.  Melmoth herself is horrifying, given that everything about her seems both dead and alive at the same time.  She's a ghost, a zombie, a vampire of sorts, a shape shifter.
Melmoth is a surprisingly short novel overflowing with color, texture, and stories, stories, stories.  The book's narrator speaks to you directly in a voice that will not be denied, and don't be surprised if Melmoth makes you wonder if someone is spying on you–with evil intent.
Lev Raphael is the author of 27 books in many genres, has taught creative writing at Michigan State University, and currently edits and coaches writers at writewitoutborders.com.