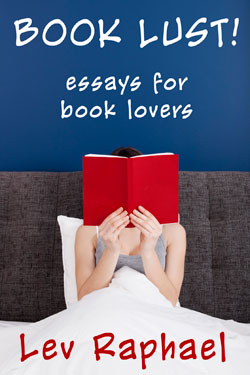 Lev Raphael brings together his best essays, reviews, and reflections on the writing life from the literary magazine Bibliobuffet. Whether writing about memoirs, Shakespeare Denial, or some puzzling fans of his, in Book Lust! Raphael displays his trademark wit and erudition.
Provocative and revealing, Book Lust! offers Raphael's unique take on books, literary translation, authorship, touring, and much more. He's reviewed for two decades on-line, on-air and in print; has published hundreds of essays, stories, reviews and blogs; and has also authored twenty-one books in genres from memoir to mystery.
Raphael has been a published and prize-winning author for three decades; his fiction and essays have been taught at universities around the country; he's done hundreds of invited talks and readings on three different continents at venues from Oxford University to The Library of Congress; and he had his own radio book show where he interviewed Salman Rushdie, Erica Jong, Julian Barnes and many other authors. Join him in Book Lust! for a highly entertaining conversation about books, authors, and the book lover's life.
Buy Book Lust! for Kindle or the Nook
Watch the Book Lust! trailer:
"Lev Raphael's collection of essays on his twin passions - reading and writing - will curl the toes of bibliophiles everywhere. Raphael has a tremendous gift for casual depth—beautifully articulating profound feelings and funny moments with effortless but deliberate elegance—that leaves the reader happily illuminated and even feeling confided in, like you've just had a cocktail with your wisest, warmest friend and silently remembered why you're so smitten. As a book reviewer Raphael gives us the skinny on subjects from Marie Antoinette to bonding with your dog to the importance of good translation; his admiration is generous and, like a literary Tim Gunn, he critiques with a keen eye toward perfecting or correcting, never insulting or diminishing. As a writer he offers hilarious, spot-on insights into the glories and indignities of the writing life (Bumps Along the Road should be required reading with every book contract). Finally as a person who just loves books he reminds us of all the reasons we love them, too - the ironic mix of escapism and connection - and because sometimes one like this comes along, like a warm quilt on an icy cold day."
—Liz Langley, author of Crazy Little Thing: Why Sex and Love Drive us Mad
"Lev Raphael gives us a wonderful packet of love letters to the printed word. It's a capacious love that has ample room for Henry James, appreciative readers, Marie Antoinette, good novels, wise memoirs, dogs, and Edith Wharton. It's also a love with room for passionate indignation: at arrogant copyeditors, bad novels, rude readers, The Reader, bad sex writing, Shakespeare deniers, and Edith Wharton. Raphael is that rare creature, a friendly book junkie who's able to articulate his thoughts clearly and entertainingly without turning into a scold or know-it-all. His own experience as a fiction writer enables him to shed light in unexpected places. Best of all, he leaves you with a dozen or so new titles you want to check out on your own."
—Christopher Bram, author of Exiles in America
© Lev Raphael.