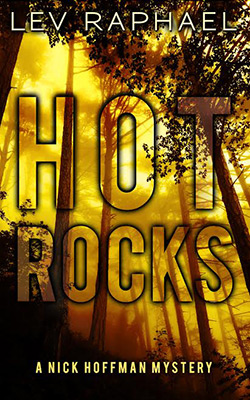 Nick Hoffmann Mystery #7
Fitness = Death when Nick Hoffman heads back to the gym right after a vacation, finding himself caught in a Desperate Housewives-type mystery. Michigan Muscle is a state-of-the-art health club adjacent to the State University of Michigan. Boasting luxurious facilities, the latest equipment, and topnotch personal trainers, it's a palatial complex for fitness. But every palace has its intrigue, and when Nick stumbles across a dead trainer, he's drawn into a web of passion and privilege unlike anything he's ever experienced before. The prime suspect because he's the one who discovered the body, Nick has to work this mystery out to its bitter end.
"If you like your mysteries smart, witty, and steaming with suspense, you won't find a better read than Lev Raphael's Hot Rocks. The new spa in town is proving hazardous to Nick's health, and it's great to be back at his side while he sleuths in the sauna. Lev's turned up the heat in one of my favorite series in crime fiction."
—Linda Fairstein, author of Bad Blood
"Hot Rocks is a comic mystery of bad manners, written with the suspenseful touch of Alfred Hitchcock bred to the epigrammatic wit of Oscar Wilde. The hero of the tale, assistant professor Nick Hoffman, is among the most lovably erudite characters in all of mystery fiction."
—Robert Eversz, author of Zero to the Bone
"Raphael's latest smoothly delivers a satisfying mystery while providing insight into the middle-aging of America, gay marriage, the excitement of sleuthing as a means of exercising control over our lives, the 'Orwellian' Patriot Act, and more."
—Booklist
Buy Hot Rocks for Kindle, Nook or in paperback
Return to main page | Return to Mysteries page
© Lev Raphael.