The Lev Raphael Papers
The Michigan State University Libraries have acquired Lev Raphael's present and future literary papers.
Lev Raphael is a pioneer in American-Jewish literature, having published fiction and non-fiction about children of Holocaust survivors for over forty years, longer than any other American writer. He is also a pioneer in writing about the gay Jewish experience in America. He is best known in Michigan for his Nick Hoffman mystery series set in Michigan, as well as his many years as a reviewer for Ann Arbor's Michigan Radio, WKAR in East Lansing, WLNZ in Lansing and the Detroit Free Press. The prize-winning author of twenty-seven books in a wide range of genres from memoir to mystery, he has spoken about his work at hundreds of venues on three continents. His books have been translated into a dozen languages and many of them are taught at colleges and universities around the U.S. His work has also been also the subject of scholarly study in articles, papers and books in the U.S. and abroad.
The Lev Raphael Papers currently consist of some ninety boxes of handwritten and typed manuscripts; writing diaries; travel/book tour journals; correspondence with other authors; domestic and foreign tour memorabilia; fan mail; corrected galley proofs; drafts and clippings of the hundreds of reviews Raphael has published; CDs from his radio show interviews with authors like Salman Rushdie and Erica Jong; research materials for his nineteen books; interviews with Raphael in print and on tape, CD and DVD; editorial correspondence; reviews of his books from around the world; articles, conference papers and book chapters written about Raphael; copies of all published works in all languages, including some rarities; unpublished manuscripts; poetry; "association copies" (books inscribed from other authors); awards; original cover art and posters; and "ephemera" (including gifts from fans) ranging over forty years of his career as a published author.
Once The Lev Raphael Papers are fully cataloged, their index will be accessible on-line and researchers will have a unique resource in this collection at Michigan State University.
Index to the Lev Raphael Papers at Michigan State University
Keep tuned to this page for future links and further developments.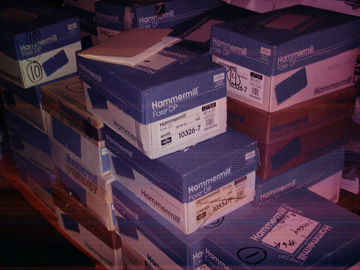 The first installment waiting for pickup.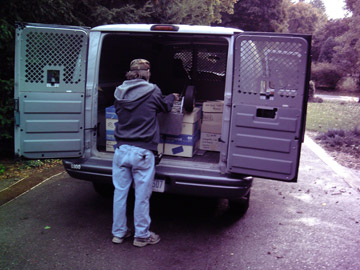 An MSU Libraries staffer loading their van.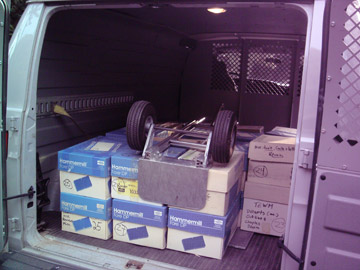 Thirty boxes about to find a new home.
All text copyright © 2001-21 by Lev Raphael.