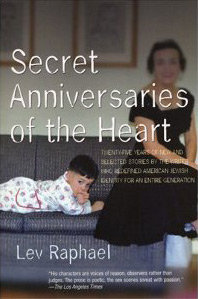 Secret Anniversaries of the Heart
When Lev Raphael published the controversial story collection Dancing on Tisha B'Av, he broke new ground in the publishing world. Never before had an American writer dealt, in one book, with the conflicts between homosexuality and traditional Judaism, linked the chilling mind diseases of anti-semitism and homophobia, while also bearing witness not only to the legacy of Holocaust survivors but the suffering and conflicts of their children. In a book that won him international acclaim, Raphael opened the door to a new kind of American Jewish fiction.
Secret Anniversaries of the Heart unites the best stories from Dancing on Tisha B'Av with twelve new stories including one never before published.
Here we encounter tales of anti-semitism on the college campus, of self-hatred and obsession, and of survivor parents whose only response to the Holocaust is to isolate themselves, unconsciously committing a kind of emotional suicide.
In a collection that encompasses over twenty-five years of his award-winning stories, Lev Raphael proves himself a visionary like James Baldwin, and shares Anita Brookner's gift for dramatizing the pain of seemingly quiet lives in stories that are both passionate and precise.
"The power of Raphael's stories comes from his passion for telling the truth, however painful."
—Hadassah
"His characters are voices of reason, observers rather than judges. The prose is poetic, the sex scenes sweat with passion."
—The Los Angeles Times
"Lev Raphael was one of the first writers to contemplate the intersection of being openly gay and being openly Jewish. Secret Anniversaries of the Heart is a wonderful introduction to this writer's world."
—Martha E. Stone, The Gay & Lesbian Review Worldwide
"Offering heartfelt, often painful, evocations of Jewish and gay identity, this collection is a bittersweet rendering of a complex culture.
In 'The Tanteh,' a writer is cursed by his great aunt for telling her tale too faithfully. Polyglot, European, a figure of faded glamour, she's Jewish in a secular, sophisticated way that's alien to his family's faith, one steeped in Passover Seders and Zionist politics. He considers his writing an act of love; she reads it as betrayal. Raphael (Writing a Jewish Life: Memoirs, 2005, etc.) is expert at conveying tension; each of these 25 stories is rich in ambivalence, and the lives they chronicle are all-too-human—messy, real and fired with uneasy desire. 'Betrayed by David Bowie' finds a college kid narrator, comfortable with his homosexuality, drawn to a Franco Nero-lookalike who's tortuously ambivalent about his. Their bond is a shared passion for David Bowie, then at the height of his Ziggy Stardust outrageousness. As the years pass, AIDS and the more prosaic post-'70s zeitgeist intervene, leaving the narrator bereft, reading interviews in which Bowie disowns his gender-bending self. In 'Welcome to Beth Homo,' a Hillel student fantasizes about an all-gay synagogue while dealing with furtive self-loathing. 'A New Light' features a reporter at a Jewish newspaper combating a highbrow senior writer's contempt for Yiddish. Conflating graphic sex scenes with Holocaust memories and epiphanies of self-discovery, Raphael writes from a highly distinctive perspective: a compassionate celebrant of souls squeezed by mainstream pressures and fighting for pride.
Concerned ultimately with the struggle for love both human and divine, these are searing stories."
—Kirkus
"Lev Raphael's stories are as thrilling as his thrillers, but for an entirely
different set of reasons: the psychological perspicacity, good humor and deep empathy with which he approaches all the secret anniversaries of the heart—his lovely title—that make up his characters' wonderfully flawed humanity."
—Jonathan Wilson, author of A Palestine Affair
"Lev Raphael's moving collection of stories speaks eloquently to the richness and variety of his concerns: faith, family, history, sexuality, what it means to be a Jew, what it means to be a man. He is a bold writer with a tender heart."
—Elizabeth Benedict, author of The Practice of Deceit
"Lev Raphael takes us into uncharted literary territory where Jewish identity, traumatic history and homosexuality collide and sometimes resolve in surprising ways. His stories, set in college dorms and family living rooms, enlarge and enliven the scope of American fiction."
—Helen Epstein, author of Children of the Holocaust