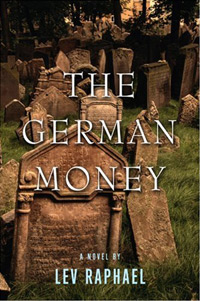 The German Money
Acclaimed for the groundbreaking Dancing on Tisha B'Av, the daring story collection that explores the emotional lives of children of holocaust survivors, Lev Raphael, one of America's most highly regarded Second Generation writers, is also the author of a popular series of mysteries set on a college campus, featuring the Jewish academic detective, Nick Hoffman. In a completely unique blending of the themes and genres of which he has proven himself a master, Raphael now treats us to something entirely new—part mystery, part saga of the generations, a novel in which the problems of a contemporary Jewish family find their roots in the unspeakable secrets of holocaust survivors.
Paul Menkus has spent his life running—from New York, the city of his birth; from his beautiful beloved; from contact with his own brother and sister; but mostly from his mother, a holocaust survivor of unparalleled coldness. Her shattering inability to offer warmth and approval, or even remotely show love, has scarred each of the Menkus children—Dina has fled the country and married a devout Catholic; Simon has led a sexually profligate life addled with drugs. Upon their mother's mysterious death, the children dutifully return home in search of answers to the family's legacy of unhappiness. But only more questions confront them: Why and how did this healthy woman die? Why did she divide their inheritance so that Paul, the errant son to whom she hadn't spoken in years, was singled out to receive the largest share, the dreaded "German money," a bequest of a million dollars accrued from German reparations to survivors... a gift as cynical as it is generous.
Navigating the rocky shores of family memory, picking up the pieces of a life torn apart by his parents' history, Paul discovers the unthinkable, and in doing so finds the courage to stop running from a legacy which is painful to embrace but impossible to forget.
Read reviews of The German Money and interviews with Lev about the book
"Lev Raphael is a daring writer—one who will not be restrained by genre, but who tells his story with all the tools at his command. The German Money combines all of Raphael's estimable talents, delivering an emotional thriller about a totally believable contemporary family coming to terms with fifty years of silence."
—Edmund White, Author of The Married Man
"Lev Raphael's new novel is a powerful, haunting and romantic tale. The stunning narrative builds to a shocking denouement and kept me turning pages faster and faster to learn the truth."
—Linda Fairstein, Bestselling Author of The Bone Vault and The Dead House
"Lev Raphael writes of love, redemption, and revenge with an unflinching honesty that is rare and beautiful. This is an exquisite portrayal of a troubled family, of three siblings each affected differently, but painfully, by their mother's past. A poignant reminder that we cannot hide from history no matter how fast and far we run, The German Money is a true and powerful triumph."
—Binnie Kirshenbaum, author of Hester Among the Ruins
Das deutsche Geld, the German edition of The German Money. The first of three Lev Raphael titles coming from Parthas Verlag in Berlin.
A Movie Version of The German Money?