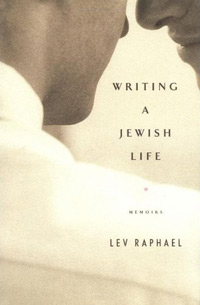 Writing a Jewish Life
Read an interview with Lev from EDGE Boston: "Lev Raphael on Being Gay and Jewish"
In Writing a Jewish Life, novelist Lev Raphael chronicles with unflinching honesty his struggles to claim both his religious and sexual identities, and the happiness he subsequently found. A son of Holocaust survivors, Raphael came to a positive Jewish identity late in life and his gay identity even later. He describes growing up in an unmistakably Jewish but nonreligous hgome; discovering a Jewish community; early sexual exploration; the turning point that came with writing his first autobiographical story; and life with his partner Gersh and their two sons.
"Lev Raphael's passion for language springs from a deep belief that writing can heal the wounds of separation—from the community, one's family, and one's innermost self. Achingly honest about what it means to be gay and the son of Holocaust survivors, his essays add a unique voice to Jewish American literature."
—Derek Rubin, editor of Who We Are: On Being (and Not Being) A Jewish American Writer
"Lev Raphael's memoirs depict with clarity, insight, and compassion the author's search to come to terms with the roots of his identity. The book's greatest achievement lies in its author's ability to transcend the boundaries of race, gender, and ethnicity, reminding us once again—as all good literature must—of our collective, shared humanness."
—Michael Steinberg, Founding Editor, Fourth Genre: Explorations in Nonfiction
"Lev Raphael is an important writer traversing many different genres."
—Publishers Weekly
"Lev Raphael's Writing a Jewish Life is a refreshing addition to the crowded library of memoirs for a number of reasons. Raphael, an accomplished novelist and journalist, uses his memoir to come to terms with three facets of his identity: his sexuality, his spirituality and his calling as a writer. He manages to do so concisely and elegantly. As the book's title implies, Raphael's work as an author is a central concern of the memoir, but his conception of 'writing' also includes the unique process that one employs in creating one's own history.
Much of Writing a Jewish Life involves Raphael's relationship with his parents, who are both Holocaust survivors. In poignant and beautiful chapters, Raphael presents a compelling portrait of two people haunted by history and, ultimately, ravaged by the advance of their years. As a young man, Raphael struggles to comprehend the place of 'the war' in their lives and to overcome his resentment of its centrality for them. He achieves some level of understanding and empathy through, among other things, his experience of the events of September 11, 2001.
Raphael also struggles with his sexual identity and his family's reaction to it. He seems to identify first as bisexual and then as gay, ultimately settling down with a male partner in a suburban Michigan town and assuming a life that seems to delight him in its ordinariness. At the same time, Raphael actively confronts his identity as a Jew and the implications of such on his sexual identity. There's a significant amount of cultural explication in this book, too, as Raphael travels to Israel and compares the lives of gays and lesbians there to their counterparts in the United States.
A compelling and movingly written memoir."
—The Bay Area Reporter