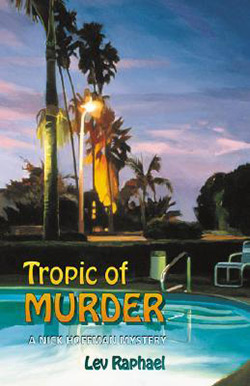 Nick Hoffmann Mystery #6
It's winter, but academic madness is in full bloom at the State University of Michigan. Untenured professor Nick Hoffman is desperately trying to keep out of the way as three senior professors battle to be the chair of his department. They all hate each other and all demand his support in an atmosphere of intense crisis. The situation implodes when an emergency meeting turns the department upside down. Nick is left desperate to make a quick getaway, so his partner Stefan suggests an idyllic week at a Caribbean Club Med. The island of Serenity, however, proves to be anything but serene. Once again, Edith Wharton scholar Nick Hoffman, who grew up in New York City and was never even mugged, finds himself face-to-face with murder.
"Beguiling and funny."
—The Washington Post
"Wildly hilarious... lyrical writing."
—The Oakland Press
"Author Lev Raphael knows quite a lot about the dismal swamps of academe and the sunlit beaches of the Caribbean. The time he has obviously spent in these places make it possible for him to write vividly—and wittily—about both, with his tongue planted firmly in his cheek."
—Lambda Book Report
"I've developed a crush on Lev Raphael's witty, literate, cheerfully satirical Nick Hoffman mysteries. Raphael writes with cynical glee about the internecine blood-letting of academic politics, which is one of the delights of this book."
—Books to Watch Out For
Buy Tropic of Murder for Kindle or in paperback
Return to main page | Return to Mysteries page
© Lev Raphael.