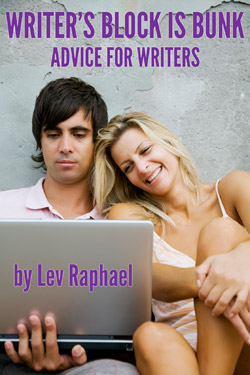 The prize-winning author of twenty-five books in genres from memoir to mystery to mashup, Lev Raphael has had a unique, colorful career as author, reviewer, and talk show host. He's taught writing in colleges, universities and workshops around the country, and in Writer's Block is Bunk, he shares his vast experience in publishing, and in touring with his books on three continents. Written with encouraging humor and honesty, Writer's Block is Bunk offers advice for both newbies and experienced authors on writing and the writing life. Ranging across topics like how to do a book reading, building your audience, responding to fans, and finding inspiration, Raphael doesn't pull any punches, but he also has fun, and so will you reading this smart and timely little book.
Listen to Lev's interview on WKAR about Writer's Block is Bunk
Buy Writer's Block is Bunk for Kindle or Nook
"Lev Raphael covers the full spectrum—from facing the blank page, to dealing with agents, to doing your own publicity. Absolutely essential reading for any writer who's curious about the writing life and the business of writing."
—Michael Steinberg, award-winning author of Still Pitching: A Memoir
"Lev Raphael shares the inside scoop on what being a writer really means. A captivating must-read for anyone in the business—or aspiring to get there."
—Terry Odell, award-winning author of Where Danger Hides
"Writer's Block is Bunk is lively, brisk, and personal. The author of twenty-three other books, from memoir to historical fiction and everything in between, Lev Raphael has timely advice on a range of subjects sure to be of interest to all kinds of writers, written in a straightforward style that is bracing and anecdotal."
—Marcia Aldrich, author of the award-winning Companion to an Untold Story
"Thank goodness for this forthright and practical guide! Lev Raphael draws on his immense experience to offer honest and useful insights into the writing world. His style is quick, informative, and generous. From debunking the concept of writer's block to warning about the dangers of over-exuberant copywriters, he gets it right with advice that's both down-to-earth and downright wise. There's charm and wry wit in his anecdotes; the tone is sensible and warm-hearted; and he's here to help with no-nonsense guidance."
—Anne-Marie Oomen, author of Pulling Down the Barn and House of Fields
"In Lev Raphael's delightful collection of essays about the writing life, he sagely advises us to stay focused on writing and reading and, above all, to maintain a sense of humor about the business. He demystifies the work of book promotion by reminding us it is just that—work! He doesn't mince words as he details his twisty, uncertain path through the world of MFA programs, book reviews, author tours and more, all without the safety net of an agent or a university professorship. On every page you'll find a profound love of the written word and a joyful outlook by this self-described 'working writer.' "
—Bonnie Jo Campbell, author of the national best seller Once Upon a River
"In these excellent essays on the life of the writer, Lev Raphael reflects on problems with what writers want, why he's a 'book slut' but no longer loves fiction as much as he once did, and how his readers mistake him for his characters. Because writing is an art and a business, he also offers insight on the MFA, agents, readings, book tours, and publicity. It's the book for those who want a long life in writing."
—Linda Peckham, Founder of the Rally of Writers Conference
"Lev Raphael takes the noise that is in the writer's head and whips it into shape with Writer's Block Is Bunk. Curling up with this book is like having coffee with your 'smarter than you' writer friend. Whether it's the notion of moving past writer's block, or the question of producing an e-book, Lev cuts straight to the chase with sage advice. This is a great addition to the bookshelf of any writer at any level."
—Andrea King Collier, multimedia journalist & author of Still With Me
Buy Writer's Block is Bunk for Kindle or Nook
© Lev Raphael.