Writing is an art.  Writing is a business.  Sometimes the business takes too much time from writing, but sometimes careful promotion pays off.
My most successful book marketing of all my twenty-four books came with the 19th, the memoir/travelogue My Germany.  It explores the role Germany played in my life as a Jewish writer with Holocaust survivor parents.
It was published by my first choice, The University of Wisconsin Press, which does gorgeous trade books and superb marketing.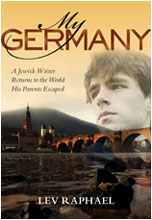 But I planned my own campaign, too.  I looked for all the German Studies and Jewish Studies programs in the country, studied each one, and wrote individual, personalized emails to various professors in both fields.  It took time and consideration, but it wasn't back-breaking work by any means.
The response was terrific and I've ended up touring on and off for four and a half years at colleges and universities in the U.S. and Canada. I've also done readings and spoken at German cultural institutions, museums, synagogues and churches, and even The Library of Congress. Thanks to my publisher, the Jewish Book Council picked up the book and I appeared at a string of Jewish Book Fairs, too, but my own efforts ended up garnering me two expenses-paid tours all across Germany.
I already had a platform as one of the earliest Jewish-American authors of what's called The Second Generation, so that helped enormously.  I wasn't an unknown.  But a platform isn't a guarantee, just a starting place.  I did my research and it paid off beyond what I expected.  And so I tell budding authors, "Is there a non-traditional way you can promote your work, aside from trying to do signings or reading in bookstores?  Who is your audience?  Try to find them, and then maybe they'll find you."