I've lost track of how often people over the course of my career have told me at parties or on book tours great ideas they had for my next novel. I'm glad they're enthusiastic, but my response is always, "Thanks.  You should write it."
I don't need ideas.  I have too many of them.  Right now, the books I'm working on include a WW II novel, a medieval novel, a novel set during the Russian Revolution, another set during the First Century in Judea, a new mystery, a new memoir, and a novel set in The Gilded Age.  Some are notes, some have been started, some have research files–and one is almost done.
What I really need is a clone who can finish all the books I wish I could finish the research for and write.  My time has become more limited ever since I started teaching creative writing and literature at Michigan State University.
I've generally taught only one course a semester, but I twice did MSU's English Department a favor and filled in for someone who was promoted one Spring, so I taught two courses that semester.  I also taught a six-week summer course in London, filling in for a professor who had a family issue.  I love teaching.  It's in my DNA since my mother and her father were teachers, but to do it well and to mentor students means my writing can't be on the front burner the way it used to be.
So the very last thing I need is anyone "offering" me a book.
And what these helpful volunteers don't realize is this: I don't want other people to do my imagining for me–that's one of the great joys of writing.  Getting suggestions, especially when they're very detailed, is like being splashed with a bucket of cold water.
I've published 25 books, but I'm not a machine like some writers I know who can crank out one or more books every year, year after year.  I'm not a fast writer in general.  I need time to reflect, and that reflection is a solo job.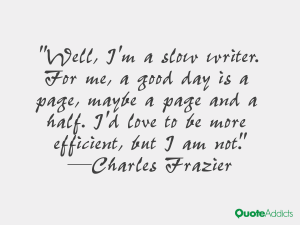 Among Lev Raphael's many books is The Nick Hoffman mystery series, set in the wilds of academia.