So you hear it over and over from TV news show panelists and on-line opinion piece writers: we have a Reality TV presidency and this is something brand new, hard to fathom. But is it, really?
Unreal lives aren't anything new in American history, according to Kurt Anderson in Fantasyland: we've been living in fantasy since our foundation. Jamestown's settlers were actually looking for gold and the Puritans wanted to create a New Jerusalem. If you think you know early Colonial history, think again: Andersen paints our first founders in a highly unflattering light as delusional bigots.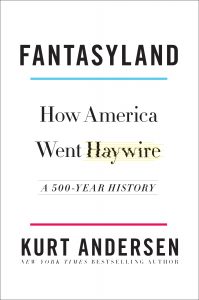 This scathing book is encyclopedic as it whirls you through our long, sad, and sometimes goofy history of what Anderson classes as crazes: conspiracy theories of all kinds dating back to the 1800s, theosophy, phrenology, patent medicines, creationism, ESP, alien abductions and so much more that you might be left gobsmacked at how exceptional we are. Exceptionally deluded, and given to believing whatever the hell we want whether there are facts supporting our beliefs or not. It's our right to, as Americans. Fake facts aren't a new concept, just a new label.
The main "inflection point" for Andersen was the 19th century Gold Rush out west where thousands of people become millionaires overnight. Many thousands more failed. Just as the same thing would happen time and again in real estate and the stock market. Those few, epic, golden years left a searing imprint on our collective consciousness: anyone can get rich quick and anyone can become anything. "Something like magic could suddenly sweep aside common sense. Miracles actually happened in America."
This kind of thinking exists in every realm Andersen exhaustively explores with wit and extensive research. Nobody is safe from his thoughtful scorn, not televangelists proclaiming The End of Days or academic institutes researching psychic phenomena and other "crackpottery." It's likely to make some readers angry because he classes all religious belief as fantasy in a country that's more religious than any other First World nation. But then he also has harsh things to say about crystals, yoga, Reiki and other New Age staples—and the anti-vaccination campaign which to him shows that people on the Left can be as misguided, misinformed, and fact-averse as people on the Right.
Fantasyland is not a quick read because you may keep putting it down in amazement (or disgust) with each new example of our "extreme, self-righteous individualism." But it's a book that can make you laugh as much as squirm, defiantly answering that Talking Heads question: "Well, how did I get here?" We Americans have always been addicted to believing in the fantastical, and now we're drowning in it.
"Same as it ever was…."
Lev Raphael is the prize-winning author of 25 books in genres from memoir to mystery, and you can study creative writing with him online at writewithoutborders.com