I've toured extensively in the US, Canada, and Europe over the years for many of my books, sometimes doing two or even three events on the same day.
I'm an extrovert and also did some acting in college, so I find the performance side of being an author exciting. Ditto meeting new people and hearing their stories, finding out about their loves, their dreams, their obsessions, hearing their jokes, sharing favorite foods—all of it.
But no matter how short and how successful it is, a book tour can be exhausting. You're always on the move or onstage, never rooted anywhere for long, always processing what went right and what went wrong, and living a double life. You're constantly aware of yourself as an author, as someone touring, as someone doing a reading, answering questions, talking about your work. That double consciousness is hard to turn off. So how to unwind?
When I tour, I almost always rely on a book that takes me back to the feelings I had in Far Rockaway one summer, when I was thirteen, sitting on a porch bench surrounded by honeysuckle, reading The Guns of August, thrilled, transfixed, oblivious. That's what I want on tour: complete immersion and escape.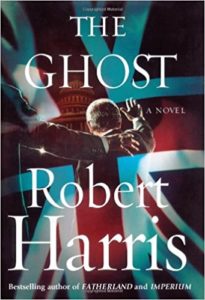 I've tried lots of novels, but my favorite is Robert Harris's The Ghost (later re-titled The Ghost Writer). I've read it many times because it never bores me. The story involves a talented ghost writer who ends up working on a politician's memoir and gets involved in the man's life in dangerous ways. It's a beautifully written, whip-smart thriller, a brilliant satire of publishing, and I'll always associate it with a tour in Germany where I read part of the book while staying in a 5-star Berlin hotel that was featured in one of the Jason Bourne movies.
You'd think I'd want to get away from anything related to publishing while on tour, but the book is so well crafted, so inspiring, I feel transported. It feeds me, energizes me, and ultimately unwinds me as much as a good meal and half a bottle of wine.
I've enjoyed other books of Harris's like Fatherland, but this one's become a kind of talisman for me—a kind of armor, too. Touring can be a hassle. Things can go wrong, you can miss planes, an event can be badly advertised, you can get sick after days on and off planes and breathing hotel air, but there's nothing more reliable than that favorite book.
Lev Raphael is the author of 27 books in genres from memoir to mystery, including Writer's Block is Bunk.  He has reviewed for The Washington Post, The Detroit Free Press and other publications as well as several public radio stations.
Twitter Image by NikolayF.com from Pixabay