I grew up in a wildly multilingual family and Canada's bilingual nature fascinated as soon as I started learning French in elementary school.  It was just a short flight from New York, but felt as distant and exotic as Belgium where my parents had lived for awhile.
I eventually became my high school's star French student, thanks to tutoring from my mother whose French was perfect. Even the subjunctive somehow sunk in. I received a certificate of achievement from the Alliance Française in New York, so a trip to Montréal seemed ideal after I graduated high school and was feeling almost bilingual (unlike my older brother whose French was not very good).
He put me in charge of hotels and I picked one on Place Jacques Cartier which was then somewhat ramshackle and noisy, but exciting for a student like me. Just being able to use French outside of a classroom–and be understood–was thrilling. I'd been studying it for eight years but in a hot house—now it was alive, transactional.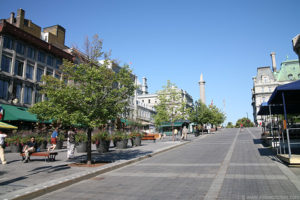 Getting into the country was unexpectedly dicey. It was 1971 and both of us looked like hippies. Clean hippies, but hippies just the same. And I didn't realize that joking with Passport Control was not a good idea. When I was asked by a suspicious agent if I had any money with me, I emptied my wallet onto the table and made some remark like "Ai-je assez?" (Do I have enough?)
My brother claims that we were taken aside for an hour and interrogated. I have no memory of that. What I do remember was the superb food everywhere we went in Vieux Montréal and the wonderful feeling of being a different person when I was speaking and thinking in another language. Oh, and how difficult it was walking in stalked heels on cobblestones (it was the early 70s, remember?). I
I knew then that I'd be back—and in more suitable shoes.
Lev Raphael is the author of twenty-five books in genres from mystery to memoir, He is an assistant professor in the English Department at Michigan State University and also teaches creative writing on line at http://www.writewithoutborders.com