Because of my Russian heritage, when I'm in Chicago I like to eat at Russian Tea Time near the Art Institute. I've never been served a bad meal there, and having lunch or dinner, scraps of my parents' conversations in Russian come back. The enjoyable present makes for a warm connection to my past, and I feel my late mother's presence very strongly because she was a wonderful cook and used to make her own borscht.
But this past weekend I felt like changing things up. I've had several book tours across Germany and in Vienna where I became very fond of the food, the wine, and the beer. So Berghoff seemed a natural choice. It's been in business for a century.
The wood paneling and stencils on the wall felt familiar even though the clientele was multi-national. I'd eaten many a schnitzel on my book tours so I wanted to see how their Wiener Schnitzel compared. Served with spaetzel and creamed spinach, it was delicious, and so was the German Riesling. The apple strudel, though, was a bit too sweet and looked deconstructed.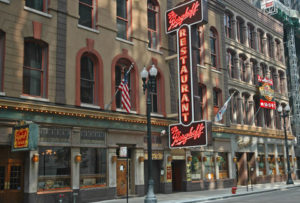 There was a band playing blues in the bar, but I didn't mind the commotion because I was reflecting on how my life had changed so dramatically after I found a distant cousin by marriage in Magdeburg, where my mother had been a slave laborer in a munitions factory. Germany had always felt taboo to me until that discovery, and I've been there five times now, visits recorded in my memoir/travelogue My Germany.
For breakfast I picked Le Pain Quotidien on Michigan Avenue and that also sparked great reminiscences. My tasty avocado toast with smoked salmon seemed very American, but the coffee came in a little pitcher and I got a bowl as opposed to a mug. It brought back more pleasant memories, this time of research trips I'd done in both the French and Flemish speaking parts of Belgium. The coffee was smooth and strong, the staff friendly.
I had planned lunch at a trattoria but got the days confused and it was closed, so I found myself drawn ineluctably to the nearby Russian Tea Time where I had two specialties I'd never tried before.  The excellent mushroom barley soup was tomato-based and filled with vegetables, while the duck strudel (yes!) was terrific and unusual.  I had two glasses of a sweet red from the Republic of Georgia and wished my mother could have been alive to dine with me there.
Food and writing often go together for me, and this trip gave me ideas for fiction and much more. I was alone for most of my time in Chicago, and that can sometimes make me miss being home, but memories and new enjoyments were great company.
Lev Raphael is the prize-winning author of 25 books in genres from mystery to memoir, including Writer's Block is Bunk.  He'll be teaching an online memoir writing workshop this summer at http://writewithoutborders.com/workshops/