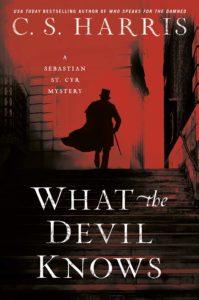 Critics lavished Bridgerton with praise for supposedly making the Regency relevant to a modern audience–as if that had never been done before.
But without gross anachronisms or improbable plot lines, C.S. Harris has been writing a dazzling world-class mystery series since 2005 that couldn't be more relevant to our time.
The Regency she offers us has plenty in common with the American world we've recently been living in.  There's a vast gulf between rich and poor; intolerance and hypocrisy among the powerful; a war that's lasted for decades; grievous childhood poverty; a skewed judicial system; xenophobia; a sexist culture suppressing women's opportunities; widespread and rampant violence. Oh yes, and a seriously disturbed head of state.  Sound familiar?
Her touchstone for all this reality and relevance is a nobleman, Viscount Sebastian St. Cyr.  He's no superhero, but he's a strong, determined man with a troubled past who invariably finds trouble when it doesn't find him.  A  freelance crime solver, he has access to the high and mighty through family and marriage connections, and the rest of London through myriad contacts across its many different social classes.  There's little he can't discover, sooner or later.
His case in What the Devil Knows, based on a true crime, involves unbelievably brutal murders that defy understanding and shake even a man like him who's seen the horrors of war.  A wanton killer who has even slaughtered infants and their mothers seems to be at loose again in London and St. Cyr can't help but worry about his wife and young son as he scours the city for clues.
From lavish parlors filled with exquisite rosewood furniture and ballrooms crowded with London's most powerful men to alleys filled with rotting fish heads, we follow the indefatigable sleuth interviewing English citizens high and low.  Harris excels at giving readers entree into a world beyond the rich and powerful, but one filled with myriad professions including bakers, maids, sailors, rag pickers, brewers, cooks, tavern keepers, seamen, night watchmen, landladies, vicars, valets, prostitutes, drivers, thieves.
On the home front, Harris writes about St. Cyr and his wife Hero with deep sympathy, but she's never maudlin.  The details of their daily life and the lives of everyone around them ring with authenticity.  That warmth makes the extreme violence St. Cyr faces more terrible, violence that might for some readers conjure up recent attacks on peaceful demonstrators and the 1/6 assault on the Capitol.
She doesn't indulge in foolishness like the hokey duel in Bridgerton that totally ignored the strict rules of that ritual.  Harris respects the past and has brought it to life in book after book with prose that's smooth and seductive.  She's one of the most evocative writers in crime fiction today.  She makes you smell the nasty, ever-present London fog; hear the creak of wheels over cobblestones or the whinny of horses sensing danger; treasure the tender warmth of candlelight; dread the footfall of a robber.
In What the Devil Knows, you won't feel mired in the bonbon-eating Lifestyles of the Rich and Vapid, but you'll relish a world where people do more than just live for the next scandal sheet.  Many of them are desperately trying to make a living, and since this is a crime novel, some are just trying to stay alive.
Lev Raphael has reviewed for the Detroit Free Press, the Washington Post and other publications as well as several public radio stations.