You've probably never heard of one of Germany's most important post World War II authors, Walter Kempowski, but he's a must read.  History doesn't get much more intimate than it does in Did You Ever See Hitler?, his slim volume of interviews German citizens published in the mid-1970s. He asked them the provocative brief question: "Haben Sie Hitler gesehen?" Did you ever see Hitler?
Kempowski compiled the book from over 300 interviews with people of all ages and professions, and the project gives you a crowd's-eye view of Hitler from the 1920s through the end of World War II, concentrating on the effect the dictator had on people and was still having decades later.
Several threads emerge. Some people only saw him once, or barely at all in a motorcade rushing past. Others often saw and heard him in Berlin. The older respondents were the generation that "had fallen for Hitler" and tried to make sure that "the memory of this fall — and the memory of the man — died out."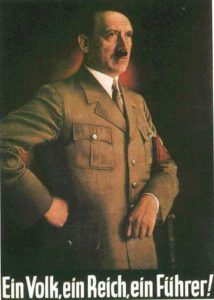 *
There are plenty of Germans in the book who almost brag that they weren't impressed by Hitler, or that they found his manner or face weird ("like a pink marzipan pig"). Then there are others who said they couldn't imagine he was going to be so powerful. Some of these same people report many public appearances in the 1930s that were less than crowded, and cities where Hitler was not wildly popular. Though as one man notes wryly, after the war, every German city claimed it had disappointed Hitler with small crowds.
But there are far more accounts of the elaborately stage-managed productions that thousands swarmed to, even if the school children or Hitler Youth were required to be there. And one after another, people talk about the hysteria Hitler evoked in women and girls: "The women were howling with delight," "They were peeing in their pants with excitement, and the older women were moaning as if the Savior were coming," "The women turned their eyes up so that the whites showed, and dropped like flies. Like slaughtered calves they lay there, breathing heavily," "We hardly dared wash our hands for three days, we were so affected simply because he had touched them."
And then there are the people who blame others for his mistakes or the war, and still believed in him. A number of Kempowski's respondents refer to crowd psychosis and tell him that nobody today can imagine what it was like to be there, whatever one felt about Hitler. Even opponents could feel swayed by the spectacle and apparently by the man.
The volume, available used on Alibris, is illustrated with photos that don't appear in the German edition. These were propaganda shots that made Hitler out to be avuncular, friendly, approachable, human. They were designed to fill albums which were printed in the hundreds of thousands, then given to students and youths who won prizes for filling them up.
Though many people speaking to Kempowski would claim  that Hitler didn't move them, the main impression this amazing book leaves you with is the strange mixture of the quotidian and the bizarre. You can almost feel the hungry, thirsty hordes waiting for hours with their feet aching, and then coming to life when they see Germany's new God appearing, blocking out the sun, promising to punish all enemies and make Germany great again.
Lev Raphael is the author of twenty-six books in many genres including the memoir-travelogue My Germany.
*"hitler1″ by billium12 is licensed under CC BY 2.0