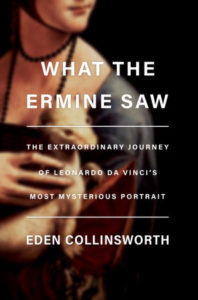 If every picture tells a story, then a masterpiece, one by Leonardo Da Vinci, must be full of stories that make for an epic, and Eden Collinsworth serves them up in grand style in her thrilling new book What the Ermine Saw.

The painting is the seductive, engrossing, and enigmatic portrait of Cecilia Gallerani, a Renaissance Duke's mistress, holding, of all things, an ermine. It's the strangest lapdog you've ever seen and has sometimes actually been misidentified over the years as just that, a dog. An ugly dog, too. But there's nothing ugly about the painter's execution, his delicacy, his tones that seem as fresh and magical as when they were painted over 500 years ago.
What is she looking at?  And why is she holding an ermine?  The author deftly explores both mysteries.

The painting in modern times has traveled from its base in a Polish museum around the world on loan and been transported with almost unimaginable security given its worth and rarity, one of only fifteen of Leonard's paintings to survive.  Reading about the security around its movements, you feel like you're in the middle of an amazing heist movie–though luckily the painting survived intact wherever it went.

How it got to Poland is somewhat mysterious as there's a gap of almost 250 years in its history, but what's more mysterious than that is its having survived wars, revolutions and every kind of disaster you can imagine–with only some minor damage to an upper corner.

Along the way and crossing one border after another in Europe, we get stories of love, lust, greed, cruelty, family feuds–plus Nazi madness and obsession.  There are capsule portraits of individuals you're unlikely to have heard about, some of them heroines like Rosa Valland at the Louvre, who kept track of the vast stores of art the Nazis looted from Jews in France.  Her secret records aided restitution to the original owners and museums after WWII.

The book is a fast, stunning read as we whirl from one century and country to the next, from palaces to hovels, and all the while the small painting shines at the center, a jewel of jewels, a magnet for the very best of humanity and also the very worst.
Collinsworth has written a book that will delight art and history buffs and yes, even fans of Dan Brown's The Da Vinci Code.  Because hovering over everything is the spirit of one of the world's greatest artistic geniuses, a man whose legacy has affected and inspired countless millions.  To turn these pages is to feel connected to his genius, however tangentially, to be graced and possibly even changed.
Lev Raphael has been an art lover since he was very young and has visited dozens of art museums across the U.S., Canada, and Europe.  The author of 27 books, he taught creative writing at Michigan State University and currently coaches, mentors, and edits writers in all genres at writewithoutborders.com.