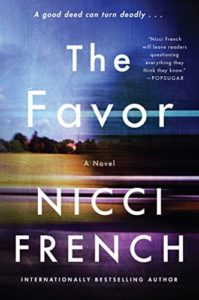 The husband and wife team who write as Nicci French are acclaimed as "masters of psychological suspense" and their latest, The Favor, has the short chapters we expect from suspense novels.  But "masters"?  A major secret is pretty obvious from the prologue onward, and that drains a lot of energy from the over-long, over-crowded story.
Jude is a London doctor whose ex-boyfriend Liam re-enters her life after eleven years and asks for a favor he won't explain.  Liam wants her to take his car and drive to a rural cottage, use his credit card en route and not her own, then meet him when he arrives later by train.  The favor has to be kept absolutely secret, and  Liam will only tell her what's going on when he gets there.
She says yes.  And why?  Because after the two of them survived a car accident as teenagers, his life turned out badly while hers was a relative success, so she feels guilty.  That's supposedly it.  But it doesn't quite add up, and if you read the prologue carefully, you'll guess what her real reason is, something the authors reveal about two hundred pages into the book.
Liam is murdered and having said "yes" to his request gets Jude involved in a police investigation where she's a prime suspect and the detective sounds more like a therapist than an investigator.  When it's exposed, Jude also has to explain her bizarre behavior to her fiancé, her parents, Liam's parents, Liam's unsavory friends and Liam's lover in a round of cringe-worthy encounters.  
She plunges more deeply into the mystery of what Liam was up to when she discovers he's made her one of the executors of his will and she agrees because "for whatever bizarre reason, he had chosen her for this task."  Well, that's just half the story: she has a profound reason to agree, something that would make almost anyone feel indebted and we can guess way too early.
Liam's financial affairs were a total mess and people keep telling her to back off, but she doesn't.  She feels so helpless and trapped, though, that it's hard to believe she could help anyone as a doctor. Jude is the kind of heroine who viewers would yell at when she's on a TV or movie screen: "Don't do it!"  Though she's supposed to be a competent doctor, she seems clueless and lacks agency, and the authors at times seem to be indulging in what crime fiction fans call "femjep."
Jude lets herself be repeatedly insulted and these interactions are annoying–more seriously, she doesn't seem much interested in who might have killed Liam until after p. 300.
Despite its flaws and extraneous detail, the book has some good lines in it.  Like this one when she heads home after a long shift at her hospital and feels a migraine coming on: "Jude held her migraine at bay all the way home, pushing her bike for the last mile as if a moment of clumsiness might tip the pain over like a scalding liquid."
Migraine sufferers might of course wonder why she chose to ride her bike instead of taking an Uber….
Lev Raphael is the former crime fiction reviewer for The Detroit Free Press and has also reviewed for The Washington Post and a handful of public radio stations.  He's the author of ten Nick Hoffman mysteries.