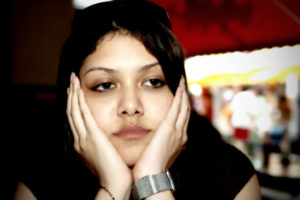 Because it was boring and obvious. The murderer had to be Hugh Grant. But I kept up with the story since my spouse watched it religiously for the New York wealth porn (clothes!  interiors!).  So I got regular plot reports, and I also read media updates which tried to stir up a frenzy about a lukewarm project that had none of the electricity or coherence of Big Little Lies.

How did I know who the killer was? Well, one way was patterns. I've reviewed hundreds of mysteries and thrillers for The Detroit Free Press and other newspapers and read many hundreds more on my own over the years. I've also written a crime series that's earned kudos from major national newspapers like The Los Angeles Times and The New York Times.

In classic crime fiction, the killer is often the least likely person. In this case, there was a meta piece to the puzzle. When you cast an actor renowned for his supernatural charm, there has to be one major reason: it's a red herring.  "Hugh Grant?  But he's such a sweetheart?  He can't be a crazy killer!"  Well, duh, of course he can.  He has to be.

As for the other suspects? There just weren't enough of them, enough to be believable, that is. Nicole Kidman didn't know about the affair so how could it be her? Neither did Donald Sutherland. The son? Puh-leeze. Sylvia? What compelling motive did she have? Grant was the super-obvious choice from episode one and each subsequent episode nailed that coffin shut. 

In addition to the regular plot updates from my spouse, nothing about the snippets I occasionally caught when I wandered into the living room tempted me back to watch the miniseries. Things just didn't add up. Kidman was a counselor when she looked dressed and groomed for a holiday in Paris staying at The Ritz? Inconceivable. It would be too distracting to the clients, and my psychologist spouse agreed. Kidman took late night walks in New York alone? Were the writers on drugs? My spouse and I both grew up in Manhattan and her solo strolls were totally unreal.
TIME magazine put it quite well: The show was "littered with predictable plot twists, hoary genre clichés, thin supporting characters and relatively little to say."
But maybe it appealed to Americans in lockdown, the way Depression-era fans flocked to see Fred Astaire and Ginger Rogers movies.  Too bad the miniseries didn't have their wit or pizazz.
Lev Raphael is the former crime fiction reviewer for the Detroit Free Press and has been moderator or panelist at dozens of panels at mystery conferences in the U.S. and abroad.  He's published 26 books in a wide range of genres and hundreds of short stories, essays, reviews, and blogs.  His work has been translated into fifteen languages.

Photo Credit: Creative Commons, by wajakemek | rashdanothman