Canada was just a short plane ride away when I grew up in New York City, and its bilingualism fascinated me as soon as I started learning French in elementary school.  I eventually became my high school's star French student, thanks to tutoring from my mother whose French was excellent. I received a certificate of achievement from the Alliance Française in New York, so a trip to Montréal seemed ideal after I graduated high school and was feeling almost bilingual.
My brother, who didn't speak French, put me in charge of hotels and I picked one on Place Jacques Cartier which was then somewhat ramshackle and noisy, but exciting for a student like me. Just being able to use French outside of a classroom–and be understood–was thrilling. I'd been studying it for eight years but now it was alive, transactional.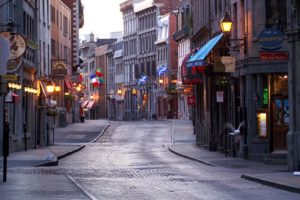 Getting into the country was unexpectedly dicey, though. It was 1971 and both of us looked like hippies. Clean hippies, but hippies nonetheless. And I didn't realize that joking with Passport Control was not a good idea. When I was asked if I had any money with me, I emptied my wallet onto the table and made some smart-ass remark like "Ai-je assez?" (Do I have enough?)
My brother claims that we were taken aside for an hour and interrogated. I have no memory of that. What I do remember was the superb food everywhere we went in Vieux Montréal and elsewhere that week and the wonderful feeling of being a different person when I was speaking and thinking in another language.
But my next trips to Canada involved a different language: Shakespeare's English. Living in Michigan, I visited the Stratford Festival in Ontario twice as a graduate student, and later, my spouse and I became Festival members.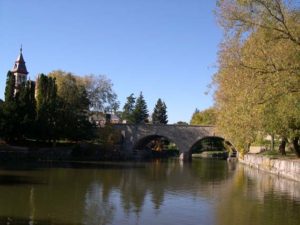 Though I'd seen some wonderful shows in New York, nothing beat watching Christopher Plummer as Lear in front row center seats or Martha Henry in Long Day's Journey into Night, a play I'd seen and studied extensively in college. Her silence was more evocative and devastating than many actors' monologues. The play left us so stunned we couldn't vacate our seats for a good ten minutes afterwards–and we went back to see it again that summer, just as we saw other plays twice when they were terrific.
Stratford was a revelation: not just a charming, scenic town, but a place where you could run into the cast members anywhere and they were happy to chat.
And then there were several trips to Montréal and Toronto each, a week in Vancouver, a handful of celebrations we had at the Langdon Hall Country House and Spa, trips to Québec City by ourselves and with one son and his wife, and my own professional visits as an author to Windsor. I know I have a lot more to explore in Canada and luckily there's plenty of time for more great food, wonderful people, and memorable sites.
Lev Raphael is the author of twenty-five books in genres from mystery to memoir including Writer's Block is Bunk.