Has a new friend ever seemed a bit too friendly, too helpful, too willing to please? This friends gets close to you very fast, sharing intimate life details while doing everything possible to basically seduce you.  It happens at time when you're desperate to break out of your isolation and depression. You share confidences really quickly and this friend becomes a lifeline.
Until the friend shows flashes of something troubling and things start to go wrong….
That's the premise of Andrew Kaufman's terrifying thriller What She Doesn't Know which manages to turn this situation into electrifying high drama while keeping it very intimate.
Riley Harper is a pariah in her small town but doesn't have the money or energy to escape.  Falsely accused of killing her teenage daughter, she's spent time in a mental institution and even her sister Erin isn't sure about what happened.  It doesn't help that Riley flies off the handle way too easily and is intensely paranoid.  This state of mind has roots in a very troubled childhood and it's no surprise when she starts stanning a beautiful, wealthy neighbor.  Riley is obsessed by this woman's lifestyle and actually breaks the law to wallow in her obsession.
But she has a roller coaster of shocks ahead of her.  Her new friend Samantha Light, living off inherited wealth, may be beautiful, generous, and affectionate–but she has darkness in her past as well and the two women bond around shared misery.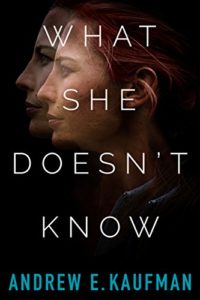 On the surface it starts out feeling like Christmas.  Samantha treats her to a shopping spree, lets Riley drive her luxury car, and gives Riley the kind of affection and support she desperately needs from her sister but isn't getting.  Life couldn't have taken a better turn for someone who is barely scraping by and can't be sure that she knows what's happening in her own crappy apartment.  Is she forgetting where she put things–like a big kitchen knife?  Is she being stalked, perhaps by a detective who was determined to convict her of her daughter's murder?
And then Samantha reveals another side to her personality that throws Riley off kilter.  Is Riley over-reacting?  Is she too sensitive?  Or is she in deep trouble?
The prose is lean, the story moves like a high speed train, and the emotions are utterly believable.  Riley is the kind of character you keep yelling at: "Don't do it!"  But of course she does, and it makes sense at every turn because the author understands the depths of despair and the craving for a lifeline. Kaufman's constructed a tale with some wild twists and Riley's plunge into a new kind of darkness is likely to keep you reading through the night.  And make you wonder about a new friend's possible hidden motives.   Riley's paranoia is almost contagious, and that's a fabulous achievement.
Lev Raphael is the author of Writer's Block is Bunk! and two dozen other books in many genres. He offers creative writing workshops, editing and mentoring online at writewithoutorders.com.