I've been getting fan mail for many years now and from many places–but last week was the first time someone wrote me from Brazil.
Just seeing the word "Brazil" curiously shot me right back to 7th grade Social Studies class where I had a snooty teacher who liked taunting us students.
One day he was lamenting how little we knew about current events.  He said we probably didn't know any world leaders outside of our own president and I raised my hand and said, "The President of Brazil is Costa e Silva."  I had seen the name in the New York Times, which my parents read daily, and it somehow stuck in my head.  This only briefly deflected our teacher's snide little speech, but I still remember his beady-eyed glare….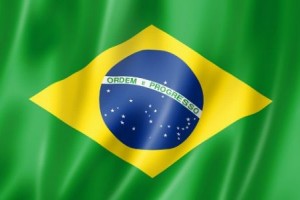 Back then, even though I had my favorite authors like Dumas and Isaac Azimov, and I sometimes dreamed of being a writer myself, I never thought about fan mail.  When it started coming after I published my first short story in Redbook years later, I wrote back to everyone (of course now it's email).  That's because when I was only about twelve, I wrote to an author of a YA novel and he actually replied–from Paris.  I lost many things over the years through moves, but never lost that.
So here's my surprising Brazilian fan email (with the town name and the writer's omitted for privacy):
I am writing to you all the way from ——–  in the countryside of Pernambuco, a Northeastern state of Brazil. I teach American Literature at a federal university, and I would like you to know that your work is read by my students, and it is really inspiring to us all.
Because my students are usually at different levels of English language acquisition, I usually have them read and analyze short stories. The one we worked on this term was "Shouts of Joy," from Secret Anniversaries of the Heart. We all loved it!
Congratulations on your great and inspiring work!
The story they all enjoyed appeared in my first collection of short stories Dancing on Tisha B'Av which won a Lambda Literary Award.  It was later reprinted in the book mentioned and pictured above, which collects 25 years of my short fiction.  I originally published "Shouts of Joy"–an erotic Passover tale–in the mid-1980s.
Given all the time that's passed, getting mail about that story is like finding a letter in a bottle washed onto a beach: mysterious and fascinating.  It's almost as if it's happened to someone else, as if I'm a character in a story, or I'm a reading a story about someone else getting this email.  In fact it is, since I've published so many stories since then, so many books, and become such a different writer.
What do I mean? Back when I conceived, wrote and published "Shouts of Joy," I thought I'd only write short stories for the rest of my career.  I'd started my career by having won a big writing prize and publishing in Redbook–which had 4.5 million readers-–before I left my MFA program, and there were many short stories writers I idolized.
But life had other, more interesting plans for me, and I've ended up writing in genres I never dreamed would call to me, including psychology and historical fiction.
Hearing now about the impact of this thirty-year-old story of mine makes me wonder who–if anyone–might be reading it thirty years from today, and where.  You know,  I think there might actually be a short story in that…..
If you're a writer, what's some cool fan mail you've gotten, and if you're a fan, what's the most surprising response to your fan mail you've received?
Lev Raphael is the author of Writer's Block is Bunk (Guide to the Writing Life) and 24 other books in many genres which you can find on Amazon.