If you're thinking of watching The Bookshop starring Emily Mortimer and Bill Nighy on Amazon Prime, wait. Read the short novel it's based on first.  The movie adds touches of romance and intensifies Penelope Fitzgerald's drama in ways that don't betray the novel, but do make the story less subtle.  More than that, the dispassionate, incisive narrative is gone, with the exception of some voice overs.
This short novel contains a world of heartbreak and cruelty.   In the late 1950s, Florence Green decides to live her dream and open a book shop in a small English coastal town.  The building she chooses for her home and business is damp, decayed, and mournful.  Her courage seems more like naivety.
Though the shop seems to start off well, the portents are not good from the very beginning.  The town seems a dead end and suffers regular devastation.  Its name is warning enough: Hardborough.
"The town itself was an island between sea and river, muttering and drawing into itself as soon as it felt cold.  Every fifty years or so it had lost, as though careless or indifferent to such things, another means of communication.  By 1850 the [river] had ceased to be navigable and the wharfs and ferries rotted away.  In 1910 the swing bridge fell in, and since then all traffic had to go ten miles round by Saxford in order to cross the river.  In 1920 the old railway was closed….The great floods of 1953 caught the seas wall and caved it in, so that the harbour mouth was dangerous to cross, except at very low tide."
Later on we learn that new homes have been and washed out to sea by erosion, a force that works on Florence herself.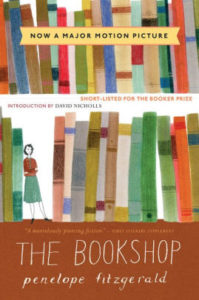 In a town this besieged and small, everyone knows every step Florence takes.  More and more it seems people are leagued against her, egged on by a wealthy doyenne who says she wants the house Florence has leased to become an arts center–that's supposedly her dream.  But what this arbitrary, rich woman really wants is to deny anyone else a place of even minor honor and notoriety.  She dreams about power, not culture.  She employs rumor and worse to get her way and to ruin Florence, whose love of books is overflowing, but whose knowledge of the world is very flawed.
Fitzgerald excels at small, cutting descriptions of people, like this one about Milo North, someone vaguely employed by the BBC who worms his way into Florence's life:
"What seemed delicacy in him was usually a way of avoiding trouble; what seemed like sympathy was the instinct to avoid trouble before it started…His emotions, from lack of exercise, had disappeared almost altogether.  Adaptability and curiosity, he had found, did just as well."
The movie gives viewers a sort of happy or redemptive ending, but the novel is hauntingly unsparing–and Florence's home itself is haunted.  Though The Bookshop is quite short, there's an epic feel to this rich and thoughtful novel that might make you want to read it again as soon as you're done.
Lev Raphael teaches one-on-one online workshops at  writewithouborders.com.  He's the author of 26 books in genres from memoir to mystery, most recently State University of Murder.