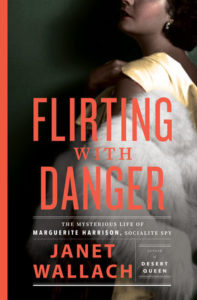 This is the biography of a wildly improbable life: born into wealth and privilege, Margaret Harrison changed careers from society news reporter to spy. That's right, fluent in German, she was a spy for American military intelligence in post-WWI Germany. Harrison was tasked with taking the mood of the country from top to bottom. She did so, moving through a country filled with violence and practically dodging bullets in Berlin as various factions fought each other for control.
When she was assigned to discover what was really going on in Bolshevik Russia, Harrison learned Russian and sneaked into that country of vast convulsions, which was at war with Poland. She had no permission, but she had charm and wit and could think fast.  Harrison was totally clear-headed about the risk of crossing over from Poland:
She was aware that once she reached the Russian side, she would have no one to turn to for help: no American diplomats had stayed in the country, no foreign embassies remained to represent her; she had no way to send a message out, and no one she knew to receive a message inside. She would be at the mercy of a dangerous adversary.
Hobnobbing with the literati and enjoying Moscow's cultural richness amid the shortages of food and just about everything else didn't last. She was forced to spy for the Cheka, the secret police–but that didn't last, either. The book tips over into a sort of horror story when she's arrested and imprisoned for well over a year in shocking, grotesque conditions that severely undermined her health–but didn't diminish her spirit. 
Multilingual, she was praised by spymasters for the best intelligence from Russia any agent was supplying, and as a media sensation, Harrison became a successful lecturer about Russian reality and her prison experiences. She left out being a double agent. Craving "hardships and adventures," she went on to get more than her share as a reporter and occasional spy in Japan, Siberia, China, Korea, and Mongolia. Her energy is almost exhausting to contemplate, and the most astonishing episodes are worthy of an Indiana Jones reboot: a film she helped finance and starred in was set in an extremely remote part of Persia. 
Flirting with Danger is filled with a blizzard of famous figures: politicians, artists, and writers from Winston Churchill to Emma Goldman and Maxim Gorky. The author is a supremely confidant storyteller, but she deserved a careful copyeditor who, for instance, was aware that German nouns are capitalized and knew that Germany was not "under authoritarian rule" in 1924. She also needed an editor who could have reined in the profusion of adjectives, many over-long sentences, excessive attention to meals, and florid phrases like this one: "her eyes danced like clouds in a blazing sky."
It's also disturbing that the author twice labels gays and lesbians in 1919 Berlin as "sinister" when this was a time of unprecedented freedom and openness for that community. The portrait of Berlin seems skewed, perhaps reflecting Harrison's own apparent prudishness, and readers will find a much more nuanced assessment of the city right after WWI in Claire McKay's Life and Death in Berlin.
All the same, Flirting with Danger is a memorable book about an unforgettable woman.  ★★★
Lev Raphael has reviewed books for the Detroit Free Press, The Washington Post and other publications.  Biography is one of his favorite genres and he recently reviewed The Art Thief.