I'm just back from reading from my memoir/travelogue My Germany in Windsor, Ontario.  I was at a fundraising event for BookFest Windsor and people asking me to sign books afterwards said they enjoyed it especially because most authors read from their books so badly.
I tend to avoid author readings myself because I've seen too many authors make basic, embarrassing mistakes.
Here are five things to avoid if you're going to read from your book, whatever the genre:
–Don't apologize in any way.  You may feel nervous, but you're a performer and you have an audience.  You need to exemplify sprezzatura: the art that conceals all art.  Your reading should be smooth and practiced and not feel like you're trying too hard.  The seams should never show.
–Don't  read anything you can't emotionally control.  If a part of your book might make you cry for any reason or even get misty-eyed, avoid it.  A reading isn't a psychodrama.  And don't announce that something often leaves you teary and go ahead anyway.  That can make an audience cringe.
–Don't keep your eyes on your book.  This may sound impossible, but it's not.  You need to study and rehearse your reading enough times so that you're familiar with it–almost as if you were an actor.  Then you can maintain good, consistent eye contact with your audience.  If all you do is look down, you'll be dull.
–Don't get over-specific about how you and when you write, or how you wrote that book before your reading.  People do like detail and do like to get to know the person behind the book, but they don't need TMI.  The book is the centerpiece, not the really gross flu you had when you were researching it.
–Don't hog the stage if you're on the bill with other authors.  Time your reading more than once at home, and then trim it.  If the organizer gives you twenty minutes, go for fifteen.  In situations with multiple readers, less is usually more because someone else is likely to run over.
Remember, the event isn't all about you: it's about your audience first and foremost.  Think about them, plan for them, respect them, connect with them.  They deserve your best, whether five people come to hear you, or five hundred.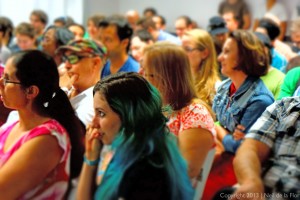 Lev Raphael has done hundreds of readings on three continents, in more than one language.  He is the author of  Writer's Block is Bunk (Guide to the Writing Life) and 24 other books in genres from memoir to mystery.