A recent Suzie Speaks blog discussed being an "extroverted introvert" and how that plays out in her life.  The question of those polarities is something I think about all the time.
Picking an identity
I'd describe myself as the opposite of Suzie: an introverted extrovert.   Though most people I know would say I'm extroverted because I do so much public speaking as an author (26 books and counting).  I've done readings in more than one language and spoken about my work hundreds of times on three different continents, from Oxford University to The Library of Congress in D.C. to the Jewish Museum in Berlin.  Interacting with an audience is exciting and fun for me, and so is teaching in a classroom, which I've done on and off for many years.  That's like writing, directing, and acting in a play.
Looking for an oasis
But I also crave my privacy and need down time after "performing."  After a few hours of teaching, all I want is quiet, a glass of wine, and some calming music or streaming a no-brains movie.  It's even more crucial for me to chill out alone when I'm on a book tour.  It's way too easy for me to feel drained after spending so much time interacting with people because I have to be 100% present.  A book tour or any kind of invited speaking gig involves  constant talking with whoever picks you up at the train station or airport, with cab drivers, with your dinner companion, with fans.  Especially with fans since it's important for me to do Q&A at my appearances.  Conferences where I do workshops are the same: I love what I do but I need to wind down afterwards ASAP.
Being an artist
The zigzag between introversion and extroversion has a deeper layer for me.  Years ago I read psychologist Otto Rank's Art and Artist and he wisely noted that artists of all kinds need experience and stimulation to create, so they have to go out into the world.  But as Wordsworth wrote, the world can be "too much with us," and so in Rank's view, creation requires retreating from the world for us to have the necessary time and energy for contemplation and reflection.  Rank saw the artist as in a perpetual battle act between public life and private life, and it sometimes does seem that way.  I'll be happy to go to concert, but wish I were home–or I'll be working on a book and want to go somewhere, anywhere out in the world.
Marriage changed me
Years ago, I was the kind of person who people were glad to have at a party.  I enjoyed dancing, mingling, meeting new people.  As an extrovert, I could chat with anyone.  More than that, I loved throwing parties myself, organizing it all, inviting a cool mix of friends and acquaintances and keeping the whole thing going by just being on the entire evening.  Then I married an introvert who spoke only when it seemed necessary, and our long years together have definitely made me more introverted.  I prefer lunching with only person now, not a group, and would rather have just one couple over for brunch than do a dinner party–or any kind of party.
Living more quietly
I grew up in crowded, noisy New York City where it seemed like I was always surrounded by people and endless commotion.  But for several decades now I've been living in a suburb where the noise you hear is dogs barking, the chatter of birds waking up in the morning, kids laughing and biking, and the hoot of a distant train at night.  It's something of an idyll for me, which is why I don't apply to go to writers' retreats: I have one.  Even though there are three main roads nearby, my house is at the center of the subdivision and we can't hear any of that traffic.  It takes a lot to convince me to leave my retreat now, and I sometimes have to brace myself and get focused beforehand.  As much as I enjoy being with friends or traveling abroad, home is often my favorite place to be.  I guess when it comes down to it, I'm probably more of an ambivert–and yes, that's a thing.  🙂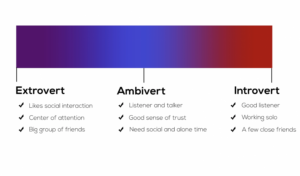 So how about you?  Are you an introvert, an extrovert, an ambivert?  What's it like navigating your world?
Lev Raphael teaches creative writing online in on-on-one workshops at writewithoutborders.com.  His books range across genres from memoir to mystery.  You can check them out at  levraphael.com.