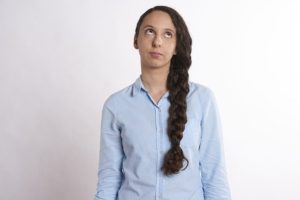 After years of reviewing crime fiction for the Detroit Free Press and other news outlets, I'm used to genre misery. Mare of Easttown is no exception. It's set in a grimy middle-American Pennsylvania town where everyone knows everyone else's business. The first two episodes have dealt up a suicide, a missing girl, alcoholism, lousy parenting, teens gone wild, bad marriages,  catfishing, stalking, two assaults, an angry mob–and of course murder.
That's pretty heavy, but to be expected. It's a show about crime, after all. What I don't expect with a crime series is clichés swarming like bees.
Mare herself is way overdone.  She's a stereotypical rude, super-tough detective given to wearing a parka and flannel shirts as if daring someone to offer her a makeover.  She of course eats cheese steaks in case you didn't realize she's in Eastern Pennsylvania, and she chugs beer out of the bottle. She also stomps around town with a sour expression like a basilisk who's lost the power to kill people with a glance.
The murder case she's handling has so many local complications it feels like the family tree of the Hapsburgs. People don't trust her to solve it alone, and she's predictably pissed off when some wide-eyed detective is brought in from out of town to assist her. She won't even shake his hand. Isn't that original? The ice starts to melt when he brings her coffee and she accepts it. Wow. That's as lovely as a fairy tale and just as stale.
But things look a bit sunnier for Mare when a shabby-chic Pulitzer Prize-winning author inexplicably moves from Vermont to the small local college nearby (what's his story?). They meet at a bar and he of course confesses his pick-up line was practiced and cheesy–and yes, he actually calls her beautiful. That's the best the writers could do. He's played by Guy Pearce and seems too smooth for his own good. Or hers. They hook up of course–what else?
By the way: he never wrote another book. Cliché Alert!
Failed/Successful Writer invites Mare to a college shindig in his honor. Damn, I thought, here come more clichés. And yes, they tumble out like rabbits from a frowzy magician's hat.
Mare is going to have trouble figuring out what to wear. Check. She's going to open up a chaotic makeup drawer and some of that mess she scrabbles through will likely be gross. Check. She'll show up at the event looking really pretty but still be ignored—by every single person there. Because of course nobody present has ever interacted with her in a town where everyone knows everyone else. Check.
There's more and this one's the topper.  She'll be offered a canapé and she'll try it, scowl, spit it out in her napkin, wrap it up and gauchely hide it someplace–like under a cushion or tuck into the couch. Check to all of that. Oh, yes, she and Pearce will argue because she's been ignored. Check again.
This whole sequence is apparently the Human Interest Break from the crime and grime, unless of course it turns out that Mr. Adorable is a psycho killer. Then it's Human Interest Red Herring. Tune in if you can stay interested or want to hate watch.  I've only hit the cliché highlights.
Putting her through her paces the way they have, it's as if the writers of the series consulted Crime Writing for Dummies, Chapter Seven: Low-class Miserable Women Sleuths. Winslet deserved better, and so did viewers.
Lev Raphael is the prize-winning author of twenty-seven books including the just-published mystery Department of Death which Publishers Weekly called "immensely enjoyable" in a starred review.
(Pixabay image by Robin Higgins)