As a writer and story-teller, I've been in love with Into the Woods for years. Ever time I see or hear it, I'm awed by Sondheim's trademark wit, his long elegant vocal lines, his surprising rhymes, his dark humor, his complex music.  So I was worried that the Disney musical would be too cute, but I was wrong; it's fairly true to the spirit of his work. Disney's found ways through cinematography and specials effects to capture the heart and soul of an American masterpiece.
The movie is full of surprises. Emily Blunt and Meryl Streep have rich expressive voices and break your heart. Johnny Depp is appropriately creepy as the Wolf and Chris Pine isn't just a wonderful singer, he's even funnier and sexier than he was in Star Trek. He almost steals the show in the beautifully staged "Agony."
There's more: "On the Steps of the Palace" is absolutely brilliant and it's not the only show-stopper in a movie which looks and sounds beautiful all the way through.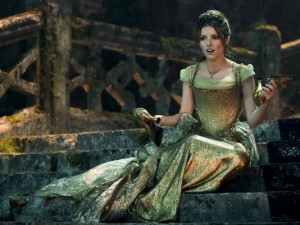 Well, almost. Perhaps to appeal to kids, Disney picked the young actor who played Gavroche in Les Misérables to play Jack. He's a dud.  His diction and thick accent turn the soaring "Giants in the Sky" into mush.  There are other things you'll miss if you know the musical. The "Mysterious Man"/Narrator isn't here in person. Lyrics are trimmed throughout and the two Princes only sing together once.
More seriously, "No More" is cut, and it's the pivotal song that makes the Baker turn and face his responsibilities. Perhaps most sadly, almost all of the ensembles are axed and so you lose most of Sondheim's glorious harmonies. You also lose the amazing group finale on screen which is all about journeying into darkness towards self-discovery, a journey that never ends: "Into the woods, each time you go/There's more to learn of what you know."
But none of that should stop you from seeing Into the Woods, because it's deeply moving and often powerful. And there's always the DVD of the original Broadway production to fill in all the gaps. I mean, moments.
Lev Raphael's 25th book Assault with a Deadly Lie is a novel of suspense about a journey into the dark woods of stalking, gun violence and police militarization.