It started out as a fantasy.
An editor at an esteemed publishing house contacted me and asked if I had a book for him. He admired my previous work and wanted me on their list.  I was flattered and thrilled.  The timing was perfect because I did have a book, so I was soon signing a contract that gave me an advance big enough to pay for my upcoming wedding.
And then things went south.  The editing process was fine until the day before I left for a book tour in Germany and the editor told me the book was being moved up a season because the publisher loved it.  Ordinarily that would have been great news, since in-house excitement is crucial to launching a book.  But he asked me to correct the edited manuscript and get it back to him (via email) in the next two weeks.
I explained that I was leaving for a tightly-scheduled book tour, doing daily events and would be in transit when I wasn't speaking and reading. Moreover, tours were exhausting and I didn't feel I'd have the focus required for reviewing the book. I also worked on a PC and didn't have a laptop, which would mean going to internet cafes.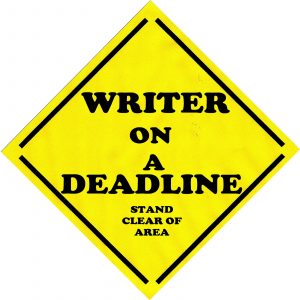 He insisted.  I thought, okay, I have to try.  But when I got to Germany I discovered that even if I tried to squeeze in some time at an internet cafe every day, there was no way I could work on German keyboards because they were laid out differently and very confusing.  My emails home were garbled and I didn't want to risk any errors creeping into the book.
I explained all that and he said fine, he would get it taken care of.
To my dismay, when I got the book back in page proofs, there was one passage that was repeated.  I deleted the repetition while making other minor corrections. But when I got back home after the tour, the publisher himself called to tell me that it would be too expensive to re-do the book since it had gone too far in the publishing process.  He refused to fix the problem.
While I loved the book's cover, I was mortified that it was being published with a glaring flaw.  And then a reviewer blamed me for letting the book appear with a repetition.
I felt burned, but luckily fans enjoyed the book despite the screw-up.  That's what publishing is like, filled with ups and downs, and nothing is predictable. As novelist and memoirist Deborah Levy says, "The writing life is mostly about stamina."
Lev Raphael is the author of 25 books in many genres, including the guide for writers, Writer's Block is Bunk.  You can take creative writing workshops with him online at writewithoutborders.com."Studying creative writing with Lev Raphael was like seeing Blade Runner for the first time: simply incredible."
—Kyle Roberts, MSU Class of 2016