I stopped doing bookstore "black hole" signings back in the 90s.  The kind where the store asks you to just sit at a table for a few hours with a pile of your books, a table sign, and a desperate smile.  Every now and then, over the sound of the register, someone announces your presence in the store over a loudspeaker, but it doesn't matter: you really don't exist and your career was a delusion.  You're lost.
I saw an author doing one like that the other afternoon.  I'd stopped at a local bookstore that had turned into a mini-mall selling candles, author dolls, DVDs and CDs, Christmas ornaments–you name it.   Her book had a tropical isle on the cover in pinks and blues and a hot title: Death by Destination.  The author was dressed in matching colors, but she looked pale and miserable.  The store hadn't done her any favors by putting her in an out-of-the-way section.
Afternoon signings are the pits and I wondered if anyone had bought her book or even talked to her. The few people seeing her skirted the table, eyes down, or worse, bumped into it and didn't even apologize.  She tried engaging the scant passersby, but was shunned ever single time.
It was mortifying. I wanted to go over and invite her out for a drink and tell her how I'd given up on this kind of giant boondoggle, how over time I'd found a niche at non-traditional venues that were much more satisfying and that if I did sign at bookstores, it was only after a reading or talk.
But just when I thought I might actually wade through the forest of peppy greeting cards to help salvage her day, I saw her resolutely get up and stride over to someone idly leafing through a dictionary in the Languages section.
"Hi!," she chirped. "I'm Ibis Goldenroad!  I write travel mysteries.  I see you're looking at a French dictionary.  Are you traveling to France?"
I moved forward to overhear the reply.  The appalled elderly woman, wearing a chic black coat, said stiffly, "I'm having a dinner party and wanted to make sure I spelled things right.  For the menu at each place setting."  With that coat and carefully styled white hair, and the frosty tone, she reminded me of Meryl Streep in The Devil Wears Prada.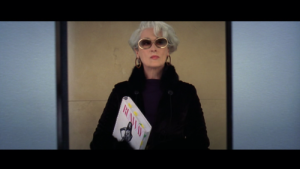 "Oh that's so interesting!  You don't like computers?"
"It's not that, dear.  My Internet is down."  The customer turned away.
The "dear" was a warning, but desperate Goldenrod didn't listen and actually touched her shoulder.  The woman flinched.
"How fun!  Oh, I love to cook!  And so do my lead characters!  One is a master chef who works on a cruise line.  You'd love my mystery series.  Do you read mysteries?"
There was a reluctant nod.
"You do?  That's wonderful! What kind?"
Without turning, the woman snapped, "The kind where annoying woman are killed."
Lev Raphael's 25 books range from memoir to mystery and beyond.  You can find them on Amazon.