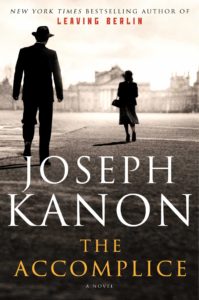 His publisher says that Joseph Kanon writes for adults,  and that's not hyperbole. Kanon's intense and thrilling spy novels are subtle, sophisticated, and beautifully written.  His mastery is evident on every page and reading one of his thrillers you can feel like you're on one of those luxury river cruises with a master chef, an expert guide, and a stateroom fit for an Egyptian pharaoh.
I've re-read some of his books as well as used excerpts in creative writing workshops, and every contact I have with his work makes me admire him more (and inspires me in my own fiction).
In The Accomplice, danger looms and crackles on every page.  The plot is simple, the execution satisfyingly complex.  CIA desk analyst Aaron Wiley lost some of his family at Auschwitz and lives in the shadow of their murder.  But it's not until his Nazi hunter uncle recruits him to track down a major war criminal that he becomes an agent in the field.  Against his better judgment–at first, anyway–Aaron is soon hunting for one of the insanely sadistic doctors who performed horrific medical experiments on Jewish prisoners.  This doctor was personally responsible for the death of his mother and his cousin.
Wiley is understandably haunted by the specter of that demonic figure his uncle aches to find and hand over to the appropriate authorities.  And all seems to be proceeding to plan until life throws Andrew a  gigantic curve: He meets the killer's daughter and becomes enthralled by her.  Kanon has made her a perfect femme fatale.
Kannon handles the tangled relationship that develops between them with absolute believability.  It's so twisted, so fraught, so inseparable from the hunt for the woman's father–and the prose seems to echo those dark emotional realities. Kanon's writing in this book is replete with sentence fragments and jagged shards of dialogue and memory as the story drives inexorably forward.
The narrative also raises important questions.
What do the Holocaust war criminals deserve?  Can any punishment possibly be commensurate with their hideous crimes?  How did they co-opt prisoners to help them commit their atrocities?  What is the burden of being a son or daughter of one of these beasts?
The form of the book is classic, almost Hitchcockian: an ordinary man is swept up into events he could never have imagined taking over his life, and he struggles to survive and make sense of it all.  Wiley is a hero, but he's no superman.  As Kanon notes about him, "Everyone at the agency had been trained to handle a gun, but he'd never shot anyone, had never hunted anything."
The action, both dramatic and emotional, is non-stop, the denouement is shocking, and there are two fabulous scenes set in cemeteries that might take your breath away. The second one reminded me of the ending chase in North by Northwest.  It doesn't get much better than that.
Lev Raphael is the author of 26 books in many genres, most recently State University of Murder.  He currently teaches creative writing online at writewithoutborders.com.