One thing we writers must do is regularly seek feedback on our work. It's the only way we can expect to improve.
The problem is, most of us go about it all wrong.
Let's say Sandy creates a story and takes it to her writer's group, submits it to a contest that offers critiques, or hires an editor. Her ultimate goal is to get feedback, but when she gets it, she focuses on only one part of it—the negative. Like most writers, she zeroes in on what she perceives to be her weaknesses, or on what she feels she did wrong.
Seemingly forgotten are all those comments describing what she did well.
This approach may make sense to you. After all, aren't we supposed to work on our weak areas to improve as writers? Once we fix these, don't we become publishable, potentially bestselling authors?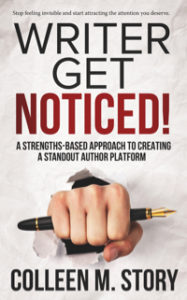 Logical, except it rarely works that way. Instead, what usually happens is you work for months or maybe years trying to fix what's wrong, and odds are what you'll have to show for it will be a slightly better story, but one that's still not good enough to attract the eye of an agent or editor.
What happened? Your writing coach or group or editor or whoever it was said your dialogue was weak, and you needed to speed up the pacing. You worked on both and afterward "they" said it was better. So why didn't you get the result you were hoping for?
Making a weakness less of a weakness is not enough to make you competitive in today's market. Competition is too fierce.
Focusing mostly on your weaknesses results only in mediocrity. To succeed as a writer, you've got to find a way to be extraordinary.
Why Writers Must Identify and Focus on Their Strengths
Bestselling author Paul B. Brown wrote in Forbes, "You are far better off capitalizing on what you do best, instead of trying to offset your weakness. Making a weakness less of a weakness is simply not as good as being the best you possibly can be at something."
I'm not saying you should ignore your weaknesses completely. When I first started writing novels, I hired an editor and got feedback that was really helpful. She pointed out my weaknesses, and I spent a good amount of time studying plot, story structure, conflict, and suspense.
It was time well spent as we all need to educate ourselves in the craft of writing. The problem was that I spent more time on those things than I did building my strengths, which slowed my progress considerably.
As long as you're stuck in the "fixing your weaknesses" mindset, you'll remain blind to the things you do really well—and that will keep you from reaching your highest potential.
Maybe you're great at writing stories that make people think, or that keep them up at night. Maybe you're an amazing world builder or mystery plot-weaver, or perhaps you have a special way of getting across a strong argument.
What are your strengths as a writer? You must discover the answer to that question, for only then can you start to build on those strengths and become the best writer you can be. For more information on how to use your strengths to build a noticeable author platform, check out Colleen's new book, Writer Get Noticed! Get your free chapter here.
Colleen M. Story's Writer Get Noticed! is a strengths-based guide to help writers break the spell of invisibility and discover unique author platforms that will draw readers their way. With over 20 years in the creative industry, Colleen is the founder of Writing and Wellness and Writer CEO. Her author website is colleenmstory.com and you can follow her on Twitter @colleen_m_story.