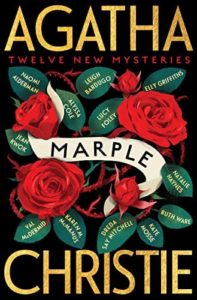 I discovered Agatha Christie in junior high school at my local library and was usually more interested in reading about Hercule Poirot and Miss Marple than anything my English teachers assigned me for homework. Christie's characters were unfailingly intrepid as detectives and their cases deliciously mysterious. While I could never remotely match their sleuthing skills, I didn't mind because the journey was enjoyable and the solutions so satisfying.

Given that Poirot was Belgian and my parents had lived in Belgium, it was Miss Marple who actually seemed more exotic, living in an alien-to-me world of gossipy small towns, vicars, cottages, servants, gardens, servants, endless cups of tea and glasses of sherry.  And she was such a delightfully unlikely  amateur sleuth, given her age and retired life, yet as keen-eyed and sharp-witted as Sherlock Holmes, though far less arrogant. 
I especially loved it when she discoursed on the nature of the human heart and evil in the drawing room, and I relished the way people underestimated her ability to pierce what might seem like an impenetrable fog around a murder.  My students at Michigan State University enjoyed her too when I taught The Murder at the Vicarage, Christie's first Miss Marple mystery.
Val McDermid pays homage to that fiendishly clever novel with her standout story in Marple, a book that collects twelve new Miss Marple stories by an international array of bestselling women crime writers like Kate Mosse and Ruth Ware.  McDermid's story, wittily titled "The Second Murder at the Vicarage," is filled with dry dialogue and lovely clues.  And its vicar isn't remotely as stupid and unbelievable as the one played by David Tennant in Netflix's appalling new series Inside Man.
The Marple anthology isn't rooted in England, but also takes Miss Marple abroad to New York, Cape Cod, Hong Kong and Italy.  That last locale is the setting for Elly Griffith's luscious "Murder at the Villa Rosa" which opens with the elegant, mouthwatering line "It's not necessary to travel to a beautiful place to commit murder, but sometimes it does help."  The gorgeously written story about a crime writer haunted by success is a pleasant surprise.  Though Miss Marple's role is a minor one, something she says proves to be pivotal.  Of course.  Perhaps most surprising in this glittering volume is Miss Marple's response after she unmasks a murderer in Leigh Bardugo's complex "The Disappearance."
Throughout the volume, Jane Marple twinkles, knits, drinks tea, calmly spies on neighbors, assures her friends that murder is much more ubiquitous than they imagine, softly jokes about mystery novels vs. real life, and glows with quiet fire.  One character in Ruth Ware's "Miss Marple's Christmas" amusingly praises her ability to solve crimes by saying she has a mind "like a bacon slicer."  Ware's plot turns in part on a story by another mystery legend, Dorothy L. Sayers–what a treat for fans of both authors.
These highly entertaining stories make for a wonderful vacation and are a fine tribute to the genius of Agatha Christie.  All the authors deftly play with the sharp contrast between Miss Marple's appearance and her dark knowledge, as expressed in "The Murdering Sort" by Karen McManus where Miss Marple notes that "no one is ever the murdering sort until they are.  The least likely people can shock you.  Young mothers, elderly clergy, esteemed businessmen. You can't rule out anyone, I'm afraid."
Lev Raphael was a long-time crime fiction reviewer for The Detroit Free Press and is the author of ten Nick Hoffman mysteries which have been praised by reviewers across the U.S.