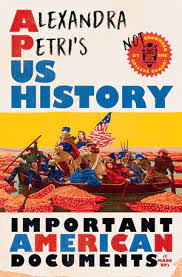 Bummed out by politics, climate change, inflation, long COVID? Alexandra Petri, Washington Post humorist, has the answer as she charges into the controversy over what students should know about American history and literature.

She's made stuff up. Hilarious stuff, like John Adams and his wife doing the 18th century version of sexting, which doesn't go very well. And the story of one of the famous colonial Minuteman who were supposedly able to defend freedom in a minute.  This guy wasn't exactly on time, taking a few hours to get ready because he couldn't find his musket or his boots and he wanted to prepare some snacks for the battlefield.  His wife had a few things to say about that.
Petri lampoons documents like The Federalist Papers and The Gettysburg Address, but some of the funniest entries in this collection are new takes on American literary classics  like Moby Dick, Leaves of Grass, The Great Gatsby, Howl, In Cold Blood, To Kill a Mockingbird, and The House of Mirth.  Edith Wharton character dolls?  Why not!  And why shouldn't the man who bought The Yellow Wallpaper's wallpaper request a refund?
Her spoof of iconic figures is also very much on point, as when Frank Lloyd Wright tussles with a client about the perfect home to build for him.  Guess what?  It's not remotely what the client wants.

Petri is fiendishly well-read and her humor is delicious, like the lost vignettes from Fifty Shades of Gray that appear throughout the book.  You'll never think of Patrick Henry the same way again after Petri serves him up to you with special sauce, and who else could have thought about customer reviews of Our American Cousin from the night Abraham Lincoln was shot?
Writers can learn a lot from her satire and may especially appreciate troubled fan mail to Harper Lee wondering about that missing mockingbird. 
Yes, the title of the book indicates that Petri made all these documents up, but you have to wonder if this book will get swept up in AI and students will be turning in essays about how Melville's publisher wasn't very taken by the idea of a book (mostly) about whales.
Lev Raphael is the author of the satirical Nick Hoffman mystery series along with seventeen other books in many genres.