I've been a fan of Daniel Day-Lewis since The Last of the Mohicans, which I've seen many times. As the critics say, nobody inhabits a role the way he does. So after all the raves for Phantom Thread, and the Oscar nominations, I expected to swoon over what's apparently going to be his last film.
He plays Reynolds Woodcock, a successful haute couture designer in London in the 1950s who's meticulous, eccentric, obsessive, and an uber-curmudgeon. Someone "noisily" buttering her toast at breakfast can apparently spoil the equilibrium of his entire day. Woodcock's no-nonsense, stylish, highly efficient  sister is his business partner and their bond is intense.  Then a disruptive force comes into their lives when Woodcock invites Alma, a waitress he meets outside of London, to move in, work at his atelier, and be a model.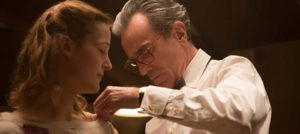 And that's when the movie slowly goes off the rails, losing all psychological believability. We don't know anything significant about Alma's background–and barely anything about Woodcock's–so the attraction between them seems shadowy and even creepy.
It becomes more than that when Woodcock impulsively decides to marry Alma and almost immediately finds her a malign influence on his couture business: "There's the smell of death in this house" he laments to his sister, and he can't concentrate on his work. As if we've switched to some kind of dark fable, Alma poisons him to get him under her control. Twice. And he seems to enjoy it.  I'm not making any of that up.
None of this is convincing or coherent in a movie that relishes surfaces: beautiful interiors, gleaming dress fabrics, pearls shining on aristocratic necks.  What's sadly missing in this film that drags on past two hours is background and depth.  Who are these people, really, and what makes them behave the way they do?
On a more basic level, but just as important, what's Woodcock's status in the world of fashion?  Why are his clothes suddenly not fashionable enough for some clients?  The gorgeous surfaces and the inside view of the intense labor involved by a whole team of people to create couture may be dazzling–but they cover up way too many gaps and ambiguities.
Lev Raphael is the prize-winning author of twenty-five books in genres from memoir to mystery.  He teaches creative writing at Michigan State University and on line at writewithoutborders.com.