For awhile it looked like the hot new show Empire wasn't going to be renewed by Fox, but The Washington Post reported May 10th that it will. I couldn't be happier.  I was late to become an Empire fanboy, but I'm not sorry about it, because that meant I got to binge-watch the show one weekend.  Empire grabbed me with its seductive opening scene; it was love at first sight.  I was hooked, but something else happened: I unexpectedly started to feel like the show was about me.
I'm not crazy.  Let me explain.
At one point in Episode Four, entertainment mogul Lucious Lyon orders his sullen youngest son Hakeem to get into the studio and write some hip-hop songs.  Now.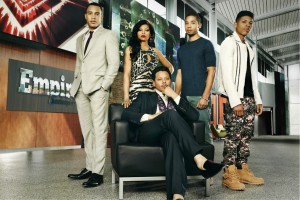 That's when I realized the show wasn't just about music, and an entertainment empire and business maneuvering, and seething family dynamics, and regret, and homophobia, and second marriages, and sibling rivalry, and secrets and lies, and facing terminal illness.  It was also about the writing life.  My writing life.
On the surface, I couldn't be more different from the Lyon brothers.  I'm the son of Holocaust survivors, I didn't grow up with one parent in prison, I don't sing, I'm not bipolar, and I'm not in a mixed marriage.  But adding their experiences together, like the Lyon brother I've felt the intense pressure to produce, produce, produce.  Like them, I've been on stage, and I've also felt stage fright and felt upstaged.
Like those guys, I've felt pushed to do things for publicity I didn't ever want to do, and badly tempted to do things I thought might get me more publicity.  Like them, I've felt the lure of fame and stardom–and sometimes waved it all away as BS.  Like them, I've wanted to be true to myself and felt stymied trying to get there and stay there.  Like them, I've had a difficult, dramatic mother who believed fiercely in me.  And like them, I've had a demanding father who could be totally unreasonable and even violent.
And though I can't write music, I've always had a soundtrack in my head from the first day I heard record albums on my parents' hi-fi….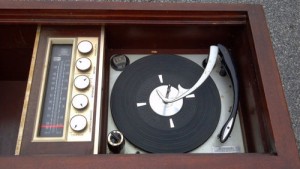 Thanks to Empire, right now that sound track includes the amazing "What is Love?" sung by Veronika Bozeman.  That's the song that opens Episode One of Empire and it's unforgettable.
The show isn't just absorbing drama with comic highlights, like all the times Lucious's ex-wife Cookie keeps dissing his lover Anika as "Boo Boo Kitty" or "fake-ass Halle Berry" and practically steals a scene with just a glare.  Hell, I think she can steal a scene she's not in–all anybody has to do is say her name.  Watch the show yourself, and try it.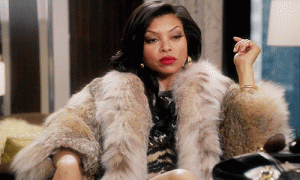 Empire is a well-written, dramatic, sexy, and sometimes hilarious show that also hooks me as a writer whenever it explores the troubles of the creative life, both internal and external.  It hits those notes deep and true every single time.  That show gives me fever.
So now's the time to catch up on Season One and see if the show gets you hot, too.
Lev Raphael is the author of Writer's Block is Bunk and 24 other books which you can find on Amazon and Barnes and Noble.