Walking into any museum is always partly a trip to an enchanted part of my childhood. My very first visit to the Metropolitan Museum of Art in New York was to see its newly acquired Rembrandt: "Aristotle with a Bust of Homer." The painting was making headlines not just because of the artist, but because its 2.3 million dollar sale price was the highest ever paid for a painting sold privately or publicly.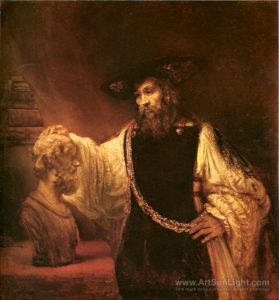 I didn't know what the painting was about or anything about Rembrandt but I was awed by the crowds and determined to share in the spectacle.  I actually crawled under people's legs to get to the front. The painting stunned me: it was so solemn and mysterious.  That day, the door to great beauty was opened to me and it's never closed.
Because we visited museums so often when I was a kid, I grew to have "friends" in New York museums, like Van Gogh's "Starry Night" at MOMA.  Whenever I'm in Chicago, I go to the Art Institute and at some point pay homage to Caillebotte's enormous, haunting "Paris Street: Rainy Day" which was recently cleaned and looks beautiful (much better than my photo shows).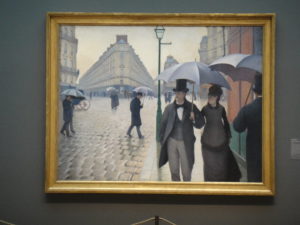 I was captivated by the artist's most famous painting the first time I saw it, perhaps because of my long years studying French, my trips to Paris, and my love of the period it evoked.  It came to move me even more after the Art Institute's 1995 Caillebotte exhibition which revealed his depth as an urban Impressionist capturing the loneliness we can all feel in a big city.
But after re-acquainting myself, I wander off, whether there's an exhibition I had specifically come to or not, because I know I'll end up being surprised by joy.  Especially when there isn't a crowd of people standing in front of a canvas, statue, or glass case (I'm too old to crawl).  There's always a treasure around a corner or across a gallery–something I've missed before or never really explored.  Like Manet's moody portrait of his fellow artist Alfred Sisley, which seems almost painted in the subject's style.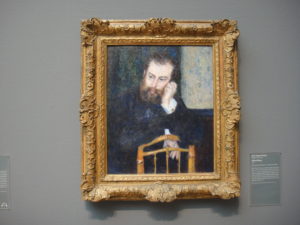 Or this moving, "Entombment" by baroque painter Guercino who I don't remember encountering before visiting the Art Institute.  It's an enormous canvas, and the rich blues and reds serve to heighten the sorrow of the scene.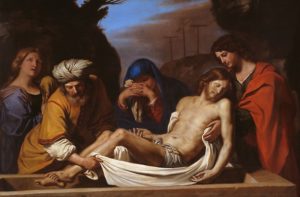 Paintings like these make me sit down on a bench, study them, let myself stop worrying about time or anything else, and just disappear into whatever world the painter has created.  In those moments, I feel as a writer that something is being written on and in me.   I feel filled, transported, healed–and sent off in new directions that I couldn't even have imagined just an hour before.
Lev Raphael is the author of twenty-five books in many genres.  He's been teaching creative writing at Michigan State University and offers writing workshops on line at writewithoutborders.com.