I'm a highly visual person and I think I got my training early, growing up in New York, a paradise of museums.  From elementary school onward, my parents took me on repeated trips to the Guggenheim, the Museum of Modern Art, and the Metropolitan.
My very first exposure to genius was when the Met bought Rembrandt's "Aristotle Contemplating the Bust of Homer" for an unheard-of sum.  I recall being very little and actually crawling through the crowds on my hands and knees so I that could get to the front.  The moody, evocative painting was breathtaking, an entrance to a brand new world.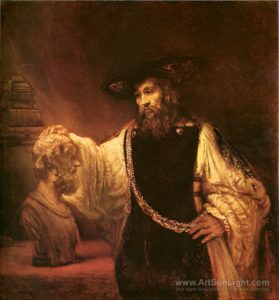 But that's what I felt in every museum, whether it was discovering Braque at MOMA, Kandinsky at the Guggenheim, or Monet at the Met.  I didn't have words for my experience, but looking back, I know that time after time, I felt elevated, transported, and hungry.  I wanted to see more.
And I did, roaming gallery after gallery, and expanding my range to other museums like the Frick.  It was a world of magic, discovery, and promise.  I often felt like Henry James when he visited Rome the first time and wrote "I went reeling and moaning thro' the streets, in a fever of enjoyment."
I never imagined that I was going to be a painter, but from second grade on, I felt destined to turn the world into words the way these masters turned the world into experiences on canvas.  Each one was a doorway to wonderment and a world that was waiting for me in Europe.
Sculpture appealed to me, too, whether Greek and Roman glories at the Met or Brancusi's stark, eloquent experiments in texture and form at MOMA and elsewhere.  Years later I would be moved to tears by a whole exhibition of Brancusi's sculptures at the Tate Modern when I wandered through the near-empty galleries.  Like a character in Brideshead Revisited, I felt that I was "drowning in honey."
When I started publishing fiction after years after creative writing classes and completing an MFA in Creative Writing, I was keen to paint with words, to describe what people and places looked like.  Sounds and aromas were secondary, not that it stopped me from writing many books and winning prizes, doing book tours here and abroad, finding my work being taught at universities, and even selling my literary papers and correspondence to a university library.
But in recent years, certain writers who appeal to more than the visual have captured me and taught me to be a better writer because they create an environment that's also aural and olfactory.  Martin Cruz Smith does this in his crime novels set in Russia that expose corruption and bloated bureaucracy, the chaos observed by his cynical hero Akady Renko.  C.S. Harris also creates a mesmerizing landscape that is multi-dimensional in her Regency mystery series which often explores the wealth and privilege of the period's upper crust.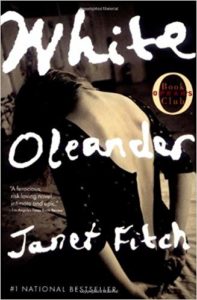 In a league all its own is Janet Fitch's best seller White Oleander about Astrid, a young girl coming of age despite the vengeful, seductive madness of her brilliant, demanding, poet mother.  Sent to jail for murder, her mother is the unhappy touchstone in Astrid's life as she bounces from one foster home to another, learning harsh lessons about life, memory, and herself.  Her Norwegian name can either refer to strength or beauty, and both are qualities she discovers in herself through harrowing circumstances.
Fitch's story-telling is powerful because it's rooted in emotion and the senses, woven through with striking similes and metaphors:
By April, the desert had already sucked spring from the air like blotting paper.

I wanted to tell her not to entertain despair like this.  Despair wasn't a guest, you didn't play its favorite music,  find it a comfortable chair.  Despair was the enemy.

So much going on in Kandinsky, it was like the frames were having trouble keeping the pictures inside.

The pearls weren't really white, there were a warm oyster beige, with little knots between them so if they broke, you only lost one.  I wished my life could be like that, knotted up so that even if something broke, the whole thing wouldn't come apart.
Of course Astrid doesn't get her wish as her life gets broken apart again and again, breaking the reader's heart because she feels so deeply and is so alone.  That last quotation is a perfect example of Fitch's gift for taking an object and making it become deeply personal, emblematic of a character's turmoil.
I was so caught up in the beauty of the writing and the fierceness of the author's vision, I didn't want it to end, but I also knew that it would inspire me to make my own books live and breathe more fully than before.
Lev Raphael is the author of State University of Murder and two dozen other books in many genres. He offers creative writing workshops, editing, and mentoring online at writewithoutorders.com.