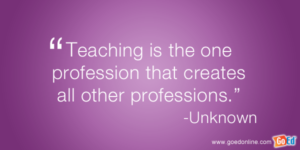 I come from a family of teachers. My mother's father taught economics in Poland. My mother taught language and literature in Belgium. And in New York, my brother taught special education.
I picked my undergraduate college, the Lincoln Center branch of Fordham University, specifically because of one creative writing teacher I'd heard about as inspirational.  It was a great choice. I ended up taking all her classes and didn't just learn the subject matter, but also how to teach, how to orchestrate a class, and how to have fun doing it.
In senior year, she took me on as an unofficial apprentice because I told her my twin goals in life were to write and to teach.  I watched what she did in classrooms as an observer, and she even showed me how she graded papers.  When I started teaching, her model was always in my head.  She was in my head.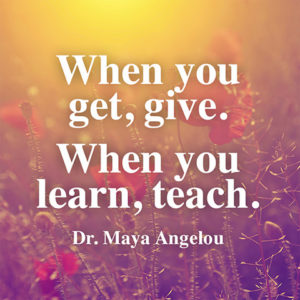 Recently I've been teaching at Michigan State University.  Like many colleges and universities, the powers-that-be have no idea what a good learning environment is for teaching literature or creative writing.  They overcrowd the creative writing workshops, which means students can't get the attention they need in class or out of it.  That's grossly unfair to the students, many of whom work more than one job to help pay their tuition.
Typically I've had twenty-five students in writing workshops, though once it was thirty.  Yes, thirty.  These class sizes not only make it harder for me to give students all the attention and feedback they need, the overcrowding makes it harder for students to get to know each other and feel comfortable sharing their work.  But administrators don't seem to care.
Luckily I've also been able to teach independent study students and supervise their senior theses, where individual attention is the critical foundation.
Now I'm applying what I've learned in many years of classroom teaching to offer online creative writing workshops.  I'll get to coach and mentor writers at all stages and offer the kind of individualized attention that learning to write requires.  No matter where you are in your development as a writer, sharing your work with someone requires trust and an atmosphere of safety.  That's what I saw my college mentor create over and over. Teaching online, I'll be sharing what I learned from her, and carrying on a family tradition in an exciting new way.
Lev Raphael is the prize-winning author of twenty-five books in a dozen different genres, including the historical novel Rosedale in Love set in New York's dazzling Gilded Age.  You can find his creative writing workshops at http://writewithoutborders.com.