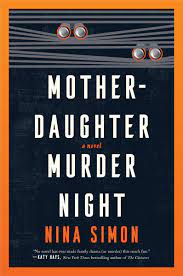 Two very different families are central to the plot in Nina Simon's debut mystery Mother-Daughter Murder Night, and given the recent fires in California, it's not surprising that fire is just as pivotal.

Fire, and fiery women, even if they're cool on the outside. Lana Rubicon is a super-stylish "diamond-hard" realtor who's been forced out of work and has retreated from chic, high-energy LA to a small town up the coast. She moves in with her somewhat estranged daughter Beth needing support during cancer treatment. Will this highly critical woman work Beth's last nerve? And where does her granddaughter fit into the family geometry?
The other family's toughest member is wealthy Diana Whiteacre whose first husband was a young duke and whose ailing father is a local landowner. His death pits her and Martin, her Maserati-driving brother, against each other since they have very different dreams for the ranch that they'll inherit. Martin's a bit too smooth for his own good.
The men in this novel are either pushy-verging-on-aggressive, or less than competent in contrast to the deeply resourceful women of all ages. And that's just fine, since Lana's barbed view of men and power permeates the story and she offers a steady supply of wit and hard-earned wisdom.
There are some minor mysteries tied into the main one that involves two murders and those aren't too hard to unravel (and neither is the murder weapon), but Simon does a good job of shifting suspicion back and forth among various characters as Lana, Beth and Jack become embroiled in solving the crimes. At great risk to themselves, of course.
Simon's people are real, her prose is taut especially when describing pain and physical peril, and she excels at making you feel transported to places you've never seen. Here's Lana gazing out a window late at night:
The moon was full above the slough, and the whole world looked flattened out in grayscale wispy clouds, grainy fields, fast-moving current.  Glints of moonlight bounced off the water where harbor seals surfaced, hunting crabs along the mud flat that edged the slice of beach behind the house.
Simon cleverly gave Lana a very rare American surname, Rubicon, to recall the famous decision Julius Caesar made when he crossed the river of that name in 49 B.C.E, breaking Roman law to bring troops into Italy for the first time. The characters in Mother-Daughter Murder Night keep crossing one kind of boundary or another and that makes for an entertaining read.
Simon's afterword adds another layer to everything in the book, since she wrote the novel when her mother developed lung cancer and they both needed distraction and a project. As such, it's a powerful gift.  ★★★★
Lev Raphael is the former crime fiction reviewer for The Detroit Free Press and author of ten Nick Hoffman mysteries set in the hothouse world of academia.