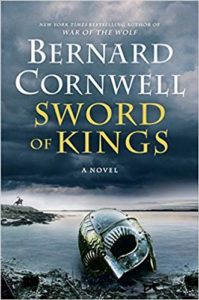 The best historical novels create a world so immersive that you don't just live inside of it while read the book, you carry that world with you for days or weeks afterward, and see everything around you through new eyes. That's the genius of Bernard Cornwell's Anglo-Saxon tales set in early medieval England, books that make him the king of this genre.
England in fact does not exist as a country in the period he explores.  The land is divided into rival kingdoms and they themselves are split between Christians and Danes.  Standing athwart two very different religious and political cultures is a hero who knows both of them intimately: Uhtred, Lord of Bebbannburg, which is a redoutable fortress in Northumbria, the last Kingdom ruled by a pagan king.
Each of these books is epic in scope but as intimate as a confession, thanks to that unforgettable narrator in a series with a cast of thousands: priests, lords, soldiers, slaves, wives, peasants, children, traitors, spies, royalty, raiders, lords, thugs, runaways, starvelings, sailors, witches. All of them are as real as your neighbors, thanks to Cornwell's quick brush strokes and his sly humor.
His prose is brisk but never mechanical. He can find poetry in the rush of water under a bridge or the changing light at dusk, and even in the gory slide of a sword into a man's guts. Cornwell doesn't hold anything back in portraying the brutality of this period which he evokes through its sites and sights, sounds, and smell and the way people dwell on the importance of dreams and find omens at every turn.
Uhtred was born Christian but raised by Danes and his heart is pagan.  Despite that reality, he's served Christian kings through sometimes bizarre twists of fate he hasn't been able to escape.  Fate is inexorable he keeps saying, and events keep proving him right.
The Lord of Bebbanburg is a keen strategist and fierce warrior, but first and foremost a man of honor who values keeping an oath even if it takes him into danger, which it does time and again.  Why?  Because he believes that a man leaves nothing behind when he dies but his reputation.  And yet, as he says, "We seek it, we prize it, and then it turns on us like a cornered wolf."
In this book Uhtred is a grandfather but as a brave as ever and no less determined to fulfill the oaths he's sworn to keep, which paradoxically bind him to the dead King Alfred who dreamed of one vast English-speaking Christian land uniting all the warring kingdoms.
Uhtred's first mission seems hopeless amid the turmoil sure to follow the death of King Edward: rescue a queen and kill a king.  That adventure involves unique dangers, amazing hand-to-hand combat, a breathtaking battle at sea and a remarkable chase scene, capped by a humiliation as profound as anything Uhtred has suffered in the previous 11 books.
Though he may be battered and battle-scarred, he's still remarkably thoughtful, and he's still a man of bold action.  After a crushing defeat when someone advises rest, his longtime comrade in arms violently disagrees: "He must fight.  He's Uhtred of Bebbanburg.  He doesn't lie in a bed feeling sorry for himself.  Uhtred of Bebbanburg puts on his mail, straps on a sword, and takes death to his enemies."
The stakes here are higher than ever: in the battle between Danes and Christians, should the Christians keep expanding their reach, they will eventually swallow his native Northumbria and change his life and the life of everyone he knows and loves forever.
The prize-winning author of 26 books in many genres, Lev Raphael teaches creative writing and offers editing services at writewithoutborders.com.