Growing up in Rome in the mid-19th century, John Singer Sargent could not have asked for a better informal education for the world-class artist he would become. He was surrounded by museums overflowing with great art and just as important, his ebullient, energetic American mother hosted gatherings of painters, sculptors, poets and writers. 
Sargent's mother was obsessed with European culture and may have modeled that enthusiasm for her son.  She also was an inveterate traveler "for her health," so the family traipsed all over Western and Central Europe with young Sargent watching, studying, sketching–whether in museums or on mountain tops.  It's fascinating to read about the challenging mountaineering he did in Switzerland with his father, something you might not associate with a man who later spent so much time in salons and studios.
This was a period when living in Europe cost much less than in the U.S. and  Americans like his mother were ravenous for culture of the Old World. Sargent grew up multilingual, voraciously interested in art, and Rome is where he was first exposed to an artistic subject that would be a constant in his life, though somewhat secret: male nudes. 
Whether painter or connoisseur, back then you could appreciate these nudes as the "ideal representation of humanity" without arousing suspicion, but Sargent's sketches and paintings showed more than just artistic fascination.  Fisher explores this terrain with wit and style, referencing many of Sargent's sketches and paintings that were unknown during the painter's lifetime to make this crucial point.   As he puts it, they "stood out as charged, emotional composition."
Sargent never married and had many deep friendships with male artists and models as long as he lived, while cultivating rich, powerful "iconoclasts and divas" like the famed art collector and Isabella Gardner.  Was he queer?  It seems obvious that he was and that it was part of his unique vision of people which astonished other painters, including tutors and teachers–and eventually made him famous. 
Some of the best writing in the book explores the not-so-hidden gay salons and haunts in Paris and Venice and how artists and writers flirted with this subculture or made themselves at home in it. Fisher also deftly explains all the ways in which the painter often focused on wealth and celebrity in his work while interrogating it as well, with many subtle touches of eroticism.  Fisher couldn't be a better guide in analyzing paintings: he's illuminating without ever coming across as academic or dry.
He also deftly analyzes Sargent's keen business sense: even in his early twenties, Sargent knew how to cultivate wealthy sitters so he could attract more of them and knew what was daring and unique enough to have work publicly displayed.   He did that while remaining in his public persona "understated, hard-working, and self-effacing." The author does a splendid job charting Sargent's peripatetic life and the ways in which he presented as comme il faut but was actually innovative and even disruptive in his art, testing the limits of what the public might accept.  That thread is important for contemporary readers who might need some of the painter's work decoded due to its subtlety.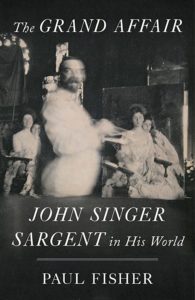 Given the book's subject and the gorgeous color plates, it's strange that the type font is on the small side and the cover itself unappealing.  Fisher's luscious book deserved better production than that, something worthy of his subject's style and genius.  All the same, this masterful, gripping, beautifully-written biography is perfect not just for fans of the painter but for anyone eager to read more about The Gilded Age.  One celebrity after another passes through these pages–including Henry James, Robert Louis Stevenson, Monet–and Fisher ably interrogates the privilege that artists like Sargent benefited from, without sounding like a scold.
Be prepared to spend some time on Google looking up paintings and painters you might not have heard of before. And readers might also want to try Donna Lucey's brisk and entertaining Sargent's Women which explores the colorful biographies of the women behind four of his iconic portraits.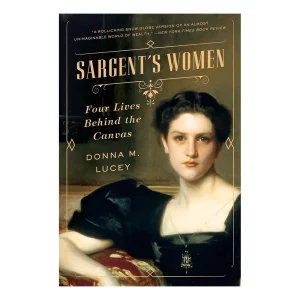 A lifelong fan of vivid biographies, Lev Raphael fell in love with Sargent's portraits in college.  One of the most enthralling exhibitions he's ever attended was the mammoth 1987 show of the painter's work at the Art Institute of Chicago.  Raphael has reviewed books for Bibliobuffet, The Detroit Free Press, Jerusalem Report, The Washington Post, and The Ft. Worth Star-Telegram.