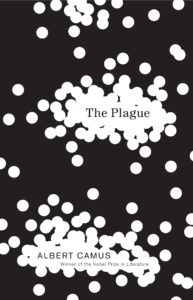 The Stranger by Albert Camus was my least favorite book in eight years of French classes. It wasn't the language, since I was a solid French student, thanks in part to a French-speaking mother. I just couldn't relate to the story at all–too young, I guess–so I never bothered to try anything else of that author until this past week.
That's when I read an article in The Guardian which reported that novels about epidemics were selling like crazy in Europe, including books by Stephen King, Dean Koontz–and of course Camus' 1947 classic The Plague.
It's set in the grim, dull, very un-scenic Mediterranean town of Oran in French-controlled Algeria where business seems people's main preoccupation until it's suddenly swept by wave after wave of dying bloody rats.  Everywhere.  Apartment building stairways, street corners, markets, cafés. Citizens are grossed out and complain to the authorities, and massive clean-ups go into effect day after day after day.  Then the rats vanish.
Problem solved.  Until people start showing signs of the bubonic plague.  In scenes that will seem eerily familiar, slow-moving officials wonder whether they should actually use the word "plague" or not because it might cause alarm, and the public notices they put up alerting people to guard their health are mealy-mouthed and not specific enough.
That all changes when the walled city is shut down completely, with guards at the gates preventing anyone from leaving.  With limited telephone service (it's the late 1940s, after all), everyone is cut off from neighboring cities, towns, and France itself except by telegrams of ten words.  At first it seems this must be temporary.
Then dread spreads through the populace as there's no end in sight and the death toll is so high that it's reported daily rather than weekly in a vain attempt to make the numbers seem less alarming.  It's hard not to think of the U.S. Surgeon general talking on CNN recently about the importance and difficulty of "messaging."  Or a president not wanting a cruise ship to unload its passengers because that would supposedly increase the numbers of the infected–as if being aboard a ship puts them in an alternate universe.
Conditions worse, rationing and irrational behavior become the new reality.  At the center of this unrelenting storm is Doctor Rieux who first observed signs of the plague in his patients.  As the story progresses, he's overwhelmed, overworked, and understandably hardened by the horrors he faces, yet he argues "That's no reason to give up."
The book is filled with people risking their lives to care for the ill and dying not because they're heroes, but because it's the right thing to do.  They contrast with the scores of citizens who have unavoidably succumbed to a habit of despair that's "worse than despair itself."
Reading The Plague is surprisingly cathartic in our anxious, uncertain time.  It's surprisingly beautiful. The translation is subtle and fluid, the writing quietly lyrical even when describing the grim realities facing a city under furious, relentless siege.
It was four in the afternoon.  The town was warming up to boiling-point under a sultry sky.  Nobody was about, all shops were shuttered.  Cottard and Rambert walked some distance without speaking,m under the arcades.  This was an hour of the day when the plague lay low, so to speak; the silence, the extinction of al color and movement, might have been due as much to the fierce sunlight as to the epidemic, and there was no telling if the air was heavy with menace or merely with dust and heat.
Their emotional suffering and isolation is total.  Compare that with our own potential situation. Even if millions of us were quarantined like the population in Italy, France, or Spain.  We would have texting, Skype and countless ways to stay in touch with people outside our zones.  Our lives would be painfully disrupted, yes, but we wouldn't necessarily feel like the citizens of Camus's Oran who were were abandoned to what felt like solitary confinement.  Cold comfort, maybe, but comfort all the same.
Lev Raphael is the author of 26 books in genres from memoir to mystery, most recently State University of Murder.