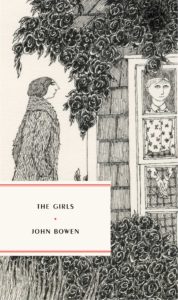 Before you even turn The Girls over to read the blurbs on the back or open to read the publisher's description on the inside jacket, you know you're in for a lovely, barbed treat. The cover illustration is by Edward Gorey and that means you can expect sly wit and unusual mayhem.
Susan and Janet have lived a harmonious and very busy life for almost a decade near a picturesque English village doing picturesque things to stock their odd little shop in town. They keep free-range chickens and bees, sew and cobble.  The store is filled with their fresh eggs; jams, preserves, and chutney; honey combs; clogs; home-made aprons and cloth belts; their prize-winning elderflower wine–and even labor-intensive goat cheeses.
The two women have a busy and apparently satisfying life until Susan goes off to Greece to find herself and something unusual finds Janet: a one-night stand that leaves her pregnant.  It's her first time with a man, so that's either luck or misfortune, how she and Susan react is worthy of a miniseries.
Bowen is absolutely brilliant when it comes to charting the highs and lows of an intimate relationship, the swift changes of mood minute-by-minute as well as over months and even years.  He finds comedy there, and tragedy too.

The writing throughout is rich with color in descriptions of flowers, shrubs, flowering trees, do-dads and knickknacks, and the narrator is like a deadpan story-teller trying hard not to smirk because she knows you're going to be surprised and doesn't want to give anything away.  I had to read passages aloud to my spouse because they were so amusing, as when Bowen writes that "the sound of raindrops on the window was like hundreds of old gentlemen rustling the pages of the Financial Times."
At times you may feel like you're in wacky P.G. Wodehouse territory: the adventures of an escaped pig which will surely make you laugh aloud.  At others, you're entering the realm of Patricia Highsmith where the quotidian is most definitely going to be exploded.  I was also reminded of Stella Gibbons' satirical Cold Comfort Farm, but Bowen has his own voice here and his own style because his narrator is so wonderfully intrusive and even challenging.
Special kudos have to go to the book designer: The Girls isn't just a pleasure to read, it's a distinct pleasure just to hold in your hands.  Readers should be grateful for the publisher's mission to reprint forgotten novels that deserve new audiences–and do so with elegance and style.  This is must read for anyone who's a fan of British fiction, crime fiction, and comic stories set in supposedly bucolic towns.
Lev Raphael has reviewed books for The Washington Post, The Detroit Free Press, Jerusalem Report and several public radio stations.