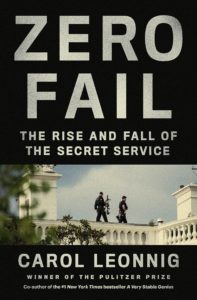 Carol Leonnig has done a good job tracing the roots and the routes of the Secret Service in what's unfortunately an overly long and very choppy book. 
On the plus side, it's fascinating to learn that the Secret Service was formed in 1865 in the Treasury Department as a group fighting massive counterfeiting.  It's also intriguing to see how different presidents and First Ladies over time have placed unique demands and restrictions on the agents protecting them–or treated them in special ways.  Who can forget Barbara Bush giving agents leftovers from White House events or LBJ speaking to his agents while he was on the toilet?  How many of us knew that the Secret Service was so tradition-bound and arrogant that it interfered with their mission to protect the president?
That being said, the book is slow, gossip-filled, and profoundly repetitious as the author explains terms and events way too many times, sometimes even repeating information a few pages apart or less.  The sloppiness is matched by the apparent political bias. Republican presidents (and their wives) seem to get more favorable reporting than the Democratic ones, especially when it comes to the Clintons.  Did Leonnig really need to devote 20+ pages to Monica Lewinsky?  And why is Betty Ford absent and Carter's presidency barely covered?
Then there's the way Leonnig shades certain events.  She notes, for example, that when Obama beat Romney he got "slightly more than 51% of the vote" without mentioning the impressive Electoral College vote of 332 to 206.  Or that Obama won 5,000,000 more votes than his opponent.
The drumbeat through this book is bureaucratic infighting, trouble, shocking surprises, scandal, and dramatic, overdue change. The Secret Service is time and time again forced to improve security around the president when there's an assassination attempt or terror attack. It seems to have been oddly reactive, not very forward-thinking, and often inept in trying to get increased funding from Congress. 
Just as problematic, its leaders worked hard to keep outrageous sexual scandals and problems with racism and sexism under wraps, sometimes lying to Congress.  Chapters where Leonnig describes massive failures by the Security Service and seething intra-agency rivalries have plenty of power and read as if they're material for a miniseries.
The author has won several Pulitzer Prizes for her reporting in the Washington Post, so perhaps her publisher didn't think editing and copy editing really mattered: the assumption was that the book would sell no matter how badly it was produced.  That's too bad, because this could have been a gripping narrative, but at almost 500 pages it feels ponderous and overstuffed. 
As it stands, Zero Fail is undercut by constant repetition, like noting who someone works for twice in two pages, and by annoying descriptions of people that don't match up: one Secret Service director is six feet four and then six feet three a few pages on.  When an author is that careless about a minor detail, can you really trust her on major ones?
Lev Raphael has reviewed for The Washington Post, The Detroit Free Press, The Huffington Post and other publications and several public radio stations in Michigan.  He's the author of 27 book in many genres, one of which has sold 300,000 copies, and has seen his work appear in fifteen languages.