I fell in love with Agatha Christie and crime fiction back in junior high and read every one of her books available at our local public library.  I was captivated by her mastery of plot even then, and now, when I re-read her, I feel an even deeper sense of awe.  She was a superb story-teller, subtle and devious and delightful.  No wonder she's been so wildly popular for nearly a century–only the Bible and Shakespeare have surpassed her in sales.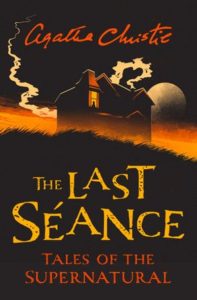 Just in time for Halloween, William Morrow has a sweet treat for Christie fans: a collection of almost two dozen creepy and ghostly tales.  It opens with a bang.  The title story revolves around Simone, an enervated medium in Paris fearful of her last séance before marriage.  Why do these séances make her so weary?  Why is she afraid of her client, a woman grieving for a lost child?  The answers are suitably shocking and grotesque.
There's a wealth of fun reading after that.  Christie offers a neat twist on inheritance stories in "Wireless."  "The Mystery of the Blue Jar" deftly deals with a WWI veteran's shell-shock–or does it? "The Blue Geranium" is one of several stories where dreams play an unusual and possibly supernatural part.
Hercule Poirot uses his little gray cells to uncover a murder in "The Dream," a story that veteran mystery readers might find a bit too easy to unravel.  But watching him amaze a room of suspects by his ratiocination is always a treat.  In "the Strange Case of Sir Arthur Carmichael," Miss Marple profits from decades of observing human nature under a microscope in her village.  She deftly explains that a ghost story she hears over dinner is actually a tale of murder.  And what a murder!  The planning is fiendishly clever.
That indomitable village sleuth also appears in "The Idol House of Astarte," a classic story of the supernatural with a femme fatale at its center, and told by a clergyman.  It raises the age-old question of whether a place or home can be "imbued or saturated with good or evil influences which can make their power felt."  Miss Marple handily dismisses the many bizarre possible solutions to a strange set of crimes at a house party, but doubts still linger.
In "The Fourth Man," a nighttime conversation in a train compartment about a famous split personality case turns very dark when one of the four men in the compartment claims to have inside information about the people involved.  What he reveals shatters the complacency of the other three–a doctor, lawyer, and minister–who discover that their view of reality is more limited than they imagined.
Christie explores that idea in more than one story, as when a "doctor of the soul" says that he doesn't believe that spirits can be earthbound and haunt a particular place, but he has more than once seen "a kind of blind groping towards justice–a subterranean moving of blind forces, always working obscurely towards that end. . ."
Justice is served throughout the collection, most deliciously in my very favorite story, which is also one of the shortest.  "The Wife of the Kenite" follows a German veteran of WW I to his unexpected destiny in South Africa.  It's chilling fiction, gorgeously written and perfectly wrought.
The shadow of that war looms over many of the tales. Even though they explore the supernatural and dark themes like avarice, jealousy, and revenge, they're often quite funny. Poirot's complaints when he gets to Egypt in "The Adventure of the Egyptian Tomb" are priceless.  And then there's Christie's satire of inarticulate English gentlemen "who dislike any form of emotion, and find it peculiarly hard to explain their mental processes in words."
Flashes of lovely character assessment like that and quickly evocative description are just some of the many delights in a collection that offers entertainment, suspense, deep human interest–and mystery, of course. Mystery of more than one kind, that is, since the eerie last story suggests that the "supernatural is only the natural of which the laws are not yet understood."
Lev Raphael is the author of 26 books including nine Nick Hoffman mysteries, most recently State University of Murder.  He teaches creative writing online at writewithoutborders.com.