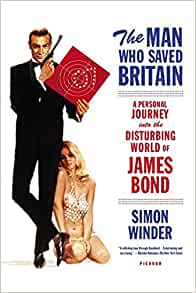 Have you been wondering who the next James Bond will be after Daniel Craig?  James Norton?  Idris Elba?  Theo James?  The maddening possibilities include Richard Madden, who's the same height as beefy Daniel Craig, and the slighter and somewhat shorter Tom Holland.  Lots of women have been suggested too, actors like Ruth Negga, Lily James, Emilia Clarke, Claire Foy, Charlize Theron and Thandiwe Newton among others.
Have you exhausted yourself re-watching every single Bond movie with every single Bond?  Even the less-than-stellar films? 
Well, there's a great book to engross and entertain you till the revelation of the New Bond is vouchsafed to eager theatergoers and streamers: Simon Winder's hilarious The Man Who Saved Britain.  It's my second read and I have to report that when I first had this marvelous book in my hands, I was on an author tour across the U.S. and startled passengers on planes and in airports because I kept laughing aloud at his wit.  Luckily this time around, I'm at home and can only alarm my dogs.
Part memoir, part geopolitical analysis, part literary survey, part history, part standup routine, the book explores the role of the wildly popular Bond books in the 1950's and 60's a time when Britain was exhausted by WWII, broke,  and losing the empire that had given it a feeling of being a world class power.  Early on in that period, Britain lacked food and fuel and despite having won the war, there was a widespread feeling that the country was a beggar at what was becoming an American feast (with Europe seated below the salt). 
Winder notes that the Bond novels' "entire purpose can be seen as carrying forward the certainties many felt about the war into the disorienting bitterness of an ever more impotent Britain." Winder pursues his own purpose of entertaining and skewering through sardonic humor and metaphors:
"The British governments of the 1950s now give out an overwhelming sense of weariness.  This was less true at the time because there was such a hail of events that they appeared quite busy, but it was only the seemingly busy behaviour of a corpse being dragged around by dogs."
"James Bond can exist only because he is British.  No other country has developed an ideology over so many years that makes ever other nation so available, so pitiful and funny.  This has come from either ruling them or attacking them at various points."
Bond's creator Ian Fleming had an intelligence background, was part of the British elite, and created a tough hero who could save the world, or most of it, single-handedly. 
"As the 1960s progressed, Bond's ability to maim and kill foreigners became a great consolation to millions of embittered and confused people whose traditional world picture had changed with alarming speed.  Bond in fact became in the 1960s pretty much the only British national capable of damaging anybody at all."
Among many fine distinctions, Winder points out that the novels are far less gadget-focused than the movies and not nearly as flashy, but enough of them make for good, quick and dirty reads.  
And Bond in the novels isn't as promiscuous as he is in the films, though the view of sex demonstrates what Winder calls "the male fantasy of a permanent, never-aging present in which an infinity of girls from around the world could be sampled in the manner of cigars."
Winder is a deft analyst of every aspect of the books and the films, some of which he's seen dozens of times.  So there's something to ponder, deplore or laugh about on almost every page thanks to a dazzling, chatty, very British raconteur. The Man Who Saved Britain is a must-read for Bond fans and a superb window into a time when Britain was very different than it is today, though lingering animus towards Europe and general griping about its place in the world seem a flame that hasn't died.
Lev Raphael is the author of 27 books including 10 crime novels.  He has taught creative writing at Michigan State University and Regents College in London.
(Full disclosure: Winder was one of my editors at St. Martin's Press in New York thirty years ago and when I first found this book I didn't know that he was also a writer, a comic, and a Bond aficionado living in London)